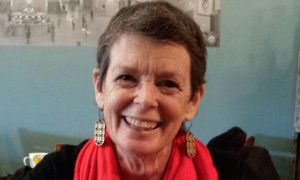 Mary Ann Radigan
November 2, 1951-April 12, 2017
It's irksome to be on the wrong side of this obituary page, but I hope I leave memories of my smile and bursts of laughter with my husband Lyle Thompson of Deer Park, WI; son Joe McQuillen of Los Angeles; daughter Annie Dulon (Ryan) of San Francisco; bonus children Doug Thompson (Vikki) of Portage, WI and Craig Thompson (Shannon Corbin) of Plymouth, MN; sister Mona Regan and brothers Tom Radigan (Debra), Tim Radigan (Lisa), and Jeff Radigan (Joyce Damgaard); nieces and nephews; cousins; the father of my children David McQuillen and my dear friends who know exactly who they are because I never made any secret about who I liked and didn't like.
Thank you for coming to my celebration of life gathering Saturday, April 22, 2017 at 1:00 pm at Bakken-Young Beebe Chapel (112 W 3rd St.) in New Richmond, WI.  Visitation time was  held from 12-1 pm.  If you were unable to come, please reminisce to Lyle and our family at maradigan@gmail.com.
While I was crazy about flowers, a donation to Planned Parenthood, Wisconsin Public Radio, Deer Park Public Library or the Minnesota Ovarian Cancer Alliance would be so much better. Thank you! I had a wonderful life!