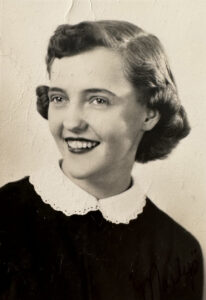 Marlys Ann (Gilbertson) Kroeze, 84, passed away Wednesday, December 21, 2022 in Rivers Edge Assisted Living, Aitkin, MN. Marlys was born November 16th, 1938 in River Falls, Wisconsin to Clara (Haberstich) and Frederick W. Gilbertson.
Marlys lived life like she played euchre— playing every hand regardless of the cards she held; sometimes confusing those around her, she knew that the secret of playing meant being a part of the fun. In her youth, she attended country school where she was known to frequently trade her school lunch for the opportunity to ride a bicycle. Her high school years were spent at Ellsworth High School where she was a cheerleader and earned her driver's license without taking a test because the examiner knew she had already been driving for years.
Marlys went "all in" when she met her future husband, Curtis Eugene Kroeze. They married in 1956, and would go on to add a full march of children when they had La Rae, Dirk, Jill, Jay, and Paul. There were many fond memories made on the family farms in Beldenville, WI and Williams, MN. After moving from the farm in Williams, they owned a small grocery store and butchery in town until 1994 when Marlys had to "go alone" after the unexpected passing of her husband, Curt. Marlys (affectionally known as "Mave") continued to take "tricks" from life by moving to Montgomery, TX, Jefferson, WI, and most recently to Aitkin, MN. She had jobs until she was 80 years old, when she decided it was finally okay to slow down. To stay busy, she would sew and mend clothes for family and friends near her until her sewing machine wore out. Her favorite table partners were her children, grand-children, and great-grand-children; she talked often of them with immense pride and joy.
She is survived by her sister, Marjorie of Pine City, MN; Sisters-in-law Donna Gilbertson of River Falls, WI, Audrey Gilbertson of Ellsworth, WI, Alice Svoboda of Downers Grove, IL, Janet (Bill) Helmer of Beldenville, WI; Brothers-in-law Greg (Karen) Kroeze of Hudson, Ohio; Dave Weber of Clayton, WI; children, La Rae Richard (Paul Addison) of Sun Prairie, WI, Dirk Kroeze of Hastings, ND, Jill (Kurt) Klicker of Aitkn, MN, Jay (Claudia) Kroeze of Biglerville, PA, and Paul (Yvette) Kroeze of Bemidji, MN.; 11 grand-children, including Dr. Austin Krohn of Aitkin; 11 great-grand-children; and numerous nieces and nephews. She is preceded in death by her husband Curtis; her parents Clara and Frederick; her in-laws Dick and Gladys Kroeze; her brothers Harland, Roger, and Donald; sisters-in-law Beverly Weber, and Donna Gilbertson; and brother-in-law Michael Svoboda.
A Celebration of Life will be held by Marlys' family this summer in Williams. To sign the guestbook online, go to: www.srtfuneral.com. Arrangements are with Sorensen-Root-Thompson Funeral Home and Cremation Service, Aitkin, MN.