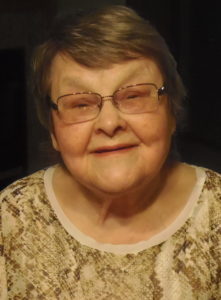 Marlene Kaul, 82, passed away peacefully on January 15, 2022.
Marlene was born in Eureka, SD, on September 10, 1939 to Otto and Emma Opp. She married Donald Kaul of Ashley, ND, on September 22, 1957 and moved to Aberdeen, SD, where they raised two children, Michael and Lori. In 2004, Marlene and Don retired to New Richmond, WI, to be closer to their children.
While in Aberdeen, Marlene and Don lived on their farm where they raised quarter horses. After their children were grown, she received her AA degree in business at Northern State University. She went on to use her bookkeeping skills as office administrator for Kaul Insurance.
Marlene cherished family. She enjoyed attending the school concerts of her many nieces and nephews, entertaining her grandchildren with board games, and writing letters to her loved ones. As an avid baseball and basketball fan, Marlene also treasured watching her family on the field and on the court. She often gathered family and friends at her dinner table, as she was a skilled cook and excellent baker. Marlene found joy in music and continued to sing her favorite hymns at Christmas, accompanied by those who shared in that joy. Marlene was a strong woman who battled health issues throughout her life. May God deliver her from pain and bring her peace.
She was preceded in death by her parents, Otto and Emma Opp; brothers, Morris and Ferdinand Opp; sister, Susan Ritter. She is survived by her husband, Don; her children, Michael (Kimberly) and Lori Obr (Timothy); her grandchildren Alison Obr (Michael Farr) and Anna; brother, Daniel Opp; and sisters, Doris Moriarty, Carolyn Hieb, Janice Jundt, Elizabeth Keim, Karen Weber, and Della Abeln.
Due to Covid-19, a private family funeral service was held on Saturday, January 22, 2022 at 2 p.m. at Saint Luke's Lutheran Church (365 W River Drive) in New Richmond. All are welcome to view Marlene's service live on her obituary page on Bakken-Young Funeral & Cremation Services website (www.bakken-young.com). In lieu of flowers, memorials may be directed to the family for donation to Lakeview Foundation (Lakeview Hospital) or donate to a charity of your choice. Interment was in New Richmond Cemetery in New Richmond. Honorary Pallbearers are Larry and Cindy Jung, Kim and Lora Jundt, Paul Heupel, and Bethany Abeln. Arrangements are with Bakken-Young Funeral & Cremation Services.