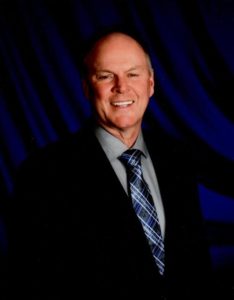 On Saturday, December 19, 2020, Mark Cleveland, loving husband, father, grandfather, brother, uncle and friend passed away unexpectedly at the age of 65.
Mark was born on December 12, 1955 in Oak Park, Illinois to Richard and Ruth (Ketelsen) Cleveland. He attended Glenbard East High School and graduated from Illinois State University in 1978. Mark married Susan Jankowske on August, 25, 1979 and started his career at Syngenta (Northrup King). The couple lived in Paris, Illinois; Columbus, Indiana; Clinton, Iowa; and Verona, Wisconsin; where they raised their three children, Andrew, Thomas and Elizabeth. In 2004, Mark and Sue relocated to Aurora, Nebraska, where Mark maintained a small hobby ranch and worked for the Aurora Cooperative – until retirement in January 2020. At that time, they moved to New Richmond, Wisconsin to be closer to their ever-expanding family.
Mark lived his life in an abundance of humor that would make even the most reluctant introvert crack open with laughter. Family gatherings brimmed with witticisms, wisecracks, and Susan trying to make sure his humor didn't get too colorful in front of the grandkids, with her notorious protest, "Mark!!" This would inevitably roll out more laughter. This trait, and his infectious belly cackle, will never be forgotten, as it is still very much alive in his family and friends.
Happiest outdoors, Mark proudly captained his Cobalt boat whether it was pulling his grandkids in tubes or having a peaceful ride with Sue. When not boating, he could be found exploring the mountains of Colorado via four-wheeler, hiking in the Wisconsin parks, jamming on the drums to 70s rock, hunting with his longtime friends in Illinois, building various pieces of furniture and supervising home renovations for his three kids, and spending time with his grandchildren.
Mark is preceded in his death by his parents, Richard and Ruth Cleveland, his brother-in-law, Dr James (Jim) Lagocki, and nephew Adam Lagocki. He is survived by his wife, Susan; sons, Andy (Megan) Cleveland, and Tom (Alicia) Cleveland; daughter, Liz (Brian) Akert; his five grandchildren, Lucas, Avery, Mia, Jacen and Piper; in addition, his siblings, Janet Lagocki, Donna (Dennis) Yarosh, David (Karla) Cleveland; and many nieces, nephews, relatives, and friends.
We know Mark would never want us to "be a baby" about his unexpected passing because he would ask "what's the sense of that?" We will never stop "stealing his lines" and will forever miss "the only normal person we know." There you go, Mark…There you go.
A private family service was held on Wednesday, December 23, 2020. A public memorial service was on Saturday, January 16, 2021 at 11:00 am at St. Luke's Lutheran Church (365 West River Dr.) in New Richmond with a visitation starting at 10AM. Guests will be asked to follow all CDC guidelines for gathering including social distancing and face masks.  Memorial designations will be decided at a later date.  Mark's memorial service will be live streamed via a link found at the bottom of the obituary. Arrangements are with Bakken-Young Funeral & Cremation Services.
Please share a story, favorite memory or favorite line of Mark's in the comment section below.