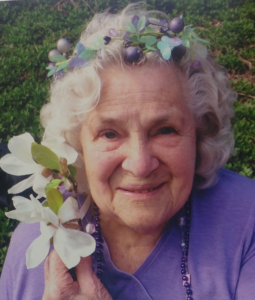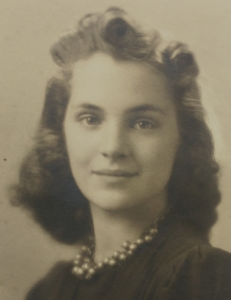 Marion Katherine Lee Jameson, aged 96, passed away August 5, 2018, in River Falls, WI. She was born at Swedish Hospital in Minneapolis April 21, 1922, the daughter of Adalea and Charles Lee. She graduated from Central High School in Minneapolis and the Minnesota Comptometer School. She married Robert (Bob) Jameson, eloping on Christmas Eve 1940.
Marion ran antiques and books businesses from the 1940s to the 1990s, served as Wright County Historian for from 1973 to 1992—the first person to hold that title and rank in the state of Minnesota—and founded a 14-building museum in 1978 in Monticello, Little Mountain Settlement, dedicated to her family's heritage and the people who settled the area in the mid-19th century; she ran the museum until 2001. Marion was a lecturer on and appraiser of antiques and both wrote a newspaper column and hosted a radio program on local history in Wright County for several years. Marion was honored as Monticello Citizen of the Year in 1993.
She co-chaired the Wright Co. Bicentennial Committee, served as advisor to the MN Agricultural Interpretive Center, and chaired the Monticello Historical Committee. She volunteered in Scouting, PTA, the Minnetonka League of Women Voters, Pillsbury and Citizen's Club Settlement Houses of Minneapolis, Disabled American Veterans Auxiliary, Minnesota Archeological Society, and the Central Minnesota Arts Council.
She was also involved in the Preservation Alliance of Minnesota, Buffalo Unitarian Universalist Fellowship, the Unitarian Universalist Society of River Falls, the Minnesota Landscape Arboretum and Vesterheim Museum among many other organizations.
She loved her friends and family as well as nature, was involved in civic affairs, collected antiques, and enjoyed history, Americana, travel, reading, and archaeology.
Preceded in death by her husband Robert and son David. Marion will remain in the hearts of her brothers John (Merrilyn) Lee of California and Richard (Antonia Vargas) Lee of Brainerd, MN; daughters Carol Anne (Ron) Madsen of Austin, MN, and Suzanne (Paul) Kramer of River Falls, WI; grandchildren Scott, Lori, Jessica, Allison and Samuel; five great-grandchildren; and three great-great-grandchildren.
A celebration of life was held Wednesday, September 12, 2018 at 2:00 pm at the Unitarian Universalist Society of River Falls (N8010 State Road 65) with Rev. Ted Tollefson, officiating.  Visitation was also on Wednesday one hour before the service.  Interment was held in Riverside Cemetery in Monticello, MN on Thursday, September 13, 2018 at 11:00 am.  Memorials may be directed to: Vesterheim Norwegian American Museum or Minnesota Landscape Arboretum or River Falls Unitarian Universalist Society. Arrangements are with Bakken-Young Funeral & Cremation Services of River Falls.