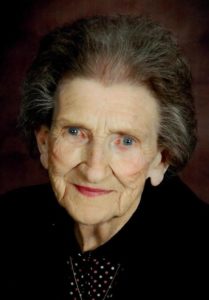 Marion A. Carlstrom, age 93, of New Richmond died Wednesday, November 11, 2020 at the Deerfield Gables Care Center.  She was born November 18, 1926 the daughter to John and Eva (Hazen) Hill in Lawrence, MA.  She attended school in Lawrence and later worked at the A & P Store as a cashier.  In 1942, she met Harry Carlstrom, a sailor in the US Navy, in Portsmouth, NH.  Four years later, she and Harry were married in Lawrence.  The couple moved to back to Harry's hometown, New Richmond, WI and raised their family there.  In 1984, as empty nesters, they moved to Birchwood, WI to be closer to their family and finally in 2005, Marion and Harry came back to New Richmond.  Marion spent many years working at Olson's Department Store in New Richmond and as a cashier at Don's Discount Store in Birchwood.  She loved people and the customers.  In later years, she was a devoted care giver to Harry.  Marion loved her two girls and especially all of her grandchildren.  Her grandchildren lovingly, remember Marion as "Grandma", "Nana", "Great-Nana", "Nana the Great", "Grammy", "Jake" and "Grinch".  She is also fondly remembered as a wonderful cook and baker, no one went away hungry from her house. She faithfully watched and cheered on the Badgers, Packers and Brewers, her favorite teams.
Marion is preceded in death by her parents, John and Eva Hill; husband, Harry Carlstrom; son, John "Jack" Carlstrom; siblings, Warren (Priscilla) Hill, Barbara (Don) Campbell, Vivian (Ray) Rousseau; sons-in-law, Fred Small, Carlos Sivilla; infant grandson, Travis Small; nephew, Barry Rousseau; nieces, Bonnie Lent and Jody Hutchins.  She is survived by her daughters, Sherry Sivilla of Luck, WI, Leslie Stoeklen of New Richmond, WI; grandchildren, Admiral Doug (Kristy O'Hearne) Small, Barb (Dan) Kromrey, Scott (Michelle) Small, Mike Paul, Jr., Jonathan (Heidi) Small, John Carlstrom, Josh Carlstrom, Justin (Tawnya Lovejoy) Stoeklen, Tyler (Chelby) Stoeklen; great grandchildren, Natalie Small, Aaron Small, Bailee (Justin Depoister) Small, Morgan Small, Kollins Small, "Baby Girl" Small arriving Nov. 16th, Cole Small, Jordyn Small, Tessa Carlstrom, Katlyn Carlstrom, Zach Lovejoy, Chloe Stoeklen, D.J. Stoeklen, Alena Stoeklen; great-great grandchildren, Jaymison Depoister, Jazlynn Depoister and Jaileigh Depoister; niece, Raylene (Charles) Runnion; great nephew, Russell Fox; godson, David Miller as well as countless "family of the heart" who will miss their "Miss Marion, "Mozy", "Mennen", "Mama Carly", and "Miss Mozy".
A funeral service was held on Saturday, November 21, 2020 at 2:30 pm at Bakken-Young Funeral & Cremation Services (728 S Knowles Ave.) in New Richmond.  Visitation was also on Saturday from 12 noon until 2:30 pm.  In honoring Marion, everyone attending her visitation or funeral are encouraged to wear their favorite Badger, Packer, Viking or favorite team colors.  Interment will be in the New Richmond Cemetery with Admiral Doug Small, Scott Small, Mike Paul, Jr, Jonathan Small, John Carlstrom, Joshua Carlstrom, Justin Stoeklen and Tyler Stoeklen serving as pallbearers.  Honorary pallbearers will be Deacon "DJ" Stoeklen, Bud Nelson, David Miller, Jim "Willy" Willet, Russell Fox, Cole Small and Aaron Small.  Marion's family would like to thank the Deerfield Gables staff for taking such wonderful care of their mother and grandmother during COVID-19, when family couldn't be there with her.  Special thank you to Optage Hospice for all their kind words, and being there for her family.  Marion loved you all!   Arrangements are with Bakken-Young Funeral & Cremation Services.
Click here to watch Marion's Funeral Nov. 21, 2020