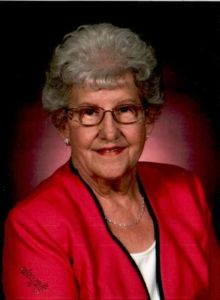 Marion Emma Birr, 89 of River Falls, WI passed away March 23, 2018 at the Kinnic Health and Rehab Center.
Marion was born September 7, 1928 in Hyde Park Township, Wabasha County, MN, to Lawrence and Johannah Duden. She was baptized into the family of God on October 21, 1928. Marion renewed her baptismal vow to serve God when she was confirmed on April 2, 1944 at St. John Lutheran Church, Good Thunder, MN.
Marion married Arno Bernhard Birr on June 28, 1944 in Blue Earth County. To this union, three children were born.
Marion was a devoted wife, a proud mother, and grandmother. She was strong willed and hardworking. Marion became known for her good cooking and baking throughout the years. She took great pride in keeping the home farm lawn mowed and manicured and having beautiful potted flowers throughout the summer. She enjoyed shopping for antique glassware and collectible dolls when they were out at their home in Arizona.
Marion is survived by her children, JoAnn (Chuck) Fulks, Marvin (Brenda) Birr; grandchildren, Kimberly (Bill) Seagraves, Suzie (Rick) Smith, Adam (Elizabeth Tesch) Birr; great-grandchildren, Jesse, KC, Kyle, Mandy; sisters, Gladys Truebenbach, Florence Plank Juers, Delores (David) Sanborn, Darlene (Phillip) Griffith; sisters-in-law, Anna Mae Duden, Shirley Duden; and many nieces and nephews. She was preceded in death by her husband of 71 years, Arno; son, Jeffery A. Birr; parents, Lawrence and Johannah Duden; brothers, Alvin (Gladys) Duden, Norman (Helen) Duden, Harlem (Malo) Duden, Harry Duden, Leslie "Buddy" (Clara) Duden, Elmer Duden, LeRoy (Hazel) Duden; sister, Janice (Kenneth) Plank; brothers-in-law, Elmer Truebenbach, Carl Plank.
Visitation was held Tuesday, April 3, 2018 from 5-8 p.m. at Bakken-Young Funeral & Cremation Services (805 E Division St., River Falls, WI 54022). Funeral Service were held Wednesday, April 4, 2018 at 11:00 a.m. at St. John Lutheran Church (311 Sherman St., Good Thunder, MN 56037) with visitation one hour prior to the service at the church. Interment was in Memorial Park Cemetery, Good Thunder, MN. Arrangements are with Bakken-Young Funeral & Cremation Services of River Falls.