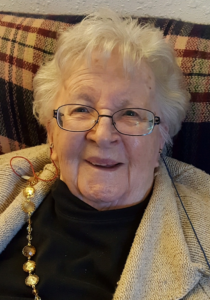 Marilyn Iola Ruth (Herfindahl) Whitchurch, 89, died peacefully in her sleep Sunday, April 15, 2018, at assisted living Our House in New Richmond, WI.
She was born July 28, 1928, to Lewis and Ida (Swanberg) Herfindahl in Benson, MN. She grew up in Minneapolis and graduated from Marshall High School in 1946 and the University of Minnesota in 1950 with a teaching degree in home economics. She taught high school in Pipestone, Anoka and Owatonna, MN.
She married David Charles Whitchurch in June 1950. She is survived by her four children: Gail Whitchurch (Rick Dargatz) of Indianapolis, IN; Joan Kopperud (Kevin Kopperud) of Moorhead, MN; Elizabeth Whitchurch (Davin Miller) of Hudson, WI; and David Whitchurch of Litchfield, MN; also nine grandchildren; six great-grandchildren; as well as one sister of Mt. Kisco, NY.  She was preceded in death by her husband in 2002 and two brothers.
A family celebration of life was held Monday, April 23, 2018 at 10:00 am at Bakken-Young Funeral Home (502 3rd St.) in Hudson, WI. Visitation was one hour before the service. Following the service, interment was in Fort Snelling National Cemetery in Minneapolis, MN. In lieu of flowers, memorials are preferred.
Arrangements are with Bakken-Young Funeral & Cremation Services of Hudson.