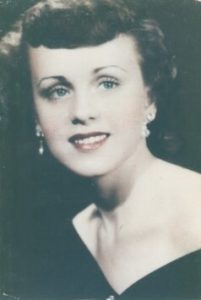 Mariell Ann Thompson (Tweedy) 1930-2022
Mariell Ann- it is a name that will go down in history as belonging to one of the all-time greats.  Not in cinema, but in beauty, humor, and faith.
Mariell Ann Tweedy came bounding into this world on April 1, 1930-April Fool's Day.  If a birthdate could capture a person's personality, she was surely born on just the right day.  Her life-long joke was that she was an April Fool's surprise to her parents Edith and Levi.  The joke was made even sweeter by the fact that she was born 12 years after her brother Russ and 10 years after her sister Lorainne.
Mariell grew up in Columbia Heights, MN and graduated high school in 1948 not just with her diploma but with the title of "Best Dressed," a much higher honor to her, I'm sure.
In 1950 she married the absolute love of her life, John Louis Thompson.  They had the privilege of introducing 4 beautiful children to the world- Brad (Cheryl) Thompson, Lorie (Tom) Vaughan, Colleen (Tom) Schreiber and Vicki Schommer.  Each child brought again the chance for her to spread her love even more as she rocked each new child in her arms and kissed their sweet cheeks goodnight.  Though she lost her love, John, when she was only 50 years old, their love continued to bless her life with 9 grandchildren and 16 great grandchildren.
Before losing John, together they built the Plaza Dairy Queen in New Brighton, MN and had a thriving business.  Along with this great success she was well known for her knitting, crocheting, her Russian iced-teas, her ability to make you laugh, and her continual singing of the goodness of God.
"I claim Him to be my Savior and we have walked and talked these many long years.  My strength comes from Him." – Mariell Ann Thompson.
It takes all kinds of people to make the world go round and Mariell added a beautifully silly spin that it most definitely needed.  She loved with her whole heart and embodied silliness and sass.  She has been known to show up at a party wearing a clown wig, to feed her grandchildren more soda and cookies than even they knew was good for them, to fall from and down anything imaginable and to pet her cats' head with such vigor that their eyes were pulled into tiny slits.
She made us all laugh and feel comforted by often saying "We will all meet again up yonder, my dear one." No doubt she was thinking of her precious animals too.
Mariell made the journey up yonder beginning her glorious eternal life in her heavenly home with her heavenly Savior, Jesus Christ and is embraced in his loving arms for eternity.  It is our earthly hope that God has her precious animals running around her feet and perched upon her shoulders.  All creatures great and small the Lord our God made them all.
Mariell knew that life was not something to take-that it was something to given.  She kept close to God and in all ways knew how faithful He was.  It was her uncomplicated and genuine relationship with Him that led many of her loved ones to find the same. By being led by her mother's faith and us being led by her's, she has left an incredible legacy behind.
The prayer of Saint Francis of Assisi ends by saying "And it is in dying that we are born to eternal life." She would not want you to be sad, but to know that she is where she has always dreamt to be.
To end this too brief of a story on an incredible woman, I will end it like she did any letter-
Lotsa love, as Always, "your 'ol Ma"
This is the day which the Lord has made; let us rejoice and be glad in it.  Psalms 118:24.  A private family graveside service was held in June at Greenwood Cemetery. Cremation services provided by Bakken-Young Funeral & Cremation Services.