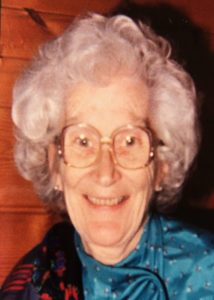 Marian Denise Woodard, 93, passed away June 24, 2019 in River Falls, WI.  She was born to Mabel and Herbert Forbes on January 29, 1926 in Crandon Wisconsin, joining her older sister Ruth.   Marian enjoyed playing with paper dolls, bike riding, playing the flute and going to movies.  The girls delighted in going on vacations with their cousins and riding in the rumble seat of their grandparent's car.
After graduating from Rice Lake High School, Marian moved to Minneapolis to attend teachers' college.  Degree in hand, she secured a position teaching second grade in Barron.  It was there she met the dashing young veterinarian, Bill Woodard.  Marian and Bill married May 29, 1949 and set up a veterinary practice in Chetek, Wisconsin where they became integral members of the community for the next thirty plus years. Marian loved her role as a Sunday school superintendent, was a proud member of the Order of Eastern Star and in the early 1970's she served on the Board of Directors of UW Center Barron County and Wisconsin Indianhead Technical College.
Known throughout the community for her gregarious personality and witty sense of humor, neighbors were like family to Marian.  She was happiest when the house was full of friends.  She never forgot a birthday and sent thousands of birthday greetings and get-well cards over the years.
In the early 1980s, Marian and "Doc" relocated to Voyager Village near Danbury, Wisconsin to live out their retirement.  They enjoyed their many years there, living on the golf course, playing bridge and hosting dinner parties.
Marian was preceded in death by her parents, sister Ruth Turner, and husband, Bill Woodard.  She is survived by her four children, Bill Woodard Jr. (Shelby), Mosinee, Wisconsin, Dan Woodard (Karen), River Falls, Wisconsin, Mary Sue Fenner (Richard), Abrams, Wisconsin and Wendy Woodard (Scott Bloch), Madison, Wisconsin.  She had five grandchildren, seven great grandchildren and many nieces and nephews.  She also left behind her dear friend, Doug Campbell, who brought much love and light to her later years. The Woodard family would like to thank the loving care given by the amazing staff at Our House Memory Care in River Falls, where Marian lived the final year of her long, happy life. A memorial service for the immediate family will be held at a later date. Cremation services provided by Bakken-Young Funeral & Cremation Services.