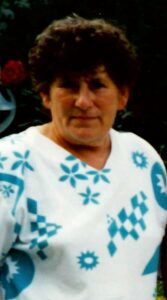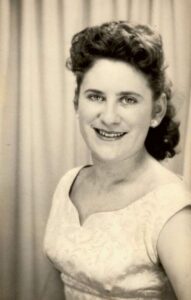 Margot Hammes, age 85, died on Thursday, August 25, 2022 at Deerfield Gables Care Center in New Richmond. She was born the daughter of Wilhelm and Margarete (nee Wunder) Lorenz on June 13, 1937 in Germany. Margot grew up in East Berlin and later fled to West Berlin when she was 16. She met Leo Hammes while Leo served overseas in Germany and married Margot when she was 21 in 1959 in Germany. After marriage, they returned to the United States and lived with Leo's parents. In 1963, Margot and Leo moved to Deer Park, WI and lived on County Road H. Margot worked as a farmer's wife gardening, canning, milking cows, cooking, and taking care of the chickens. She loved her flowers and her animals on the farm, specifically her cats and dogs. Margot was passionate and forgiving to her tenants, family, and friends.
She is preceded in death by her parents; husband, Leo; and brother, Werner. Margot is survived by her sister-in-law, Eleanor; sister, Maria; a second sister; and nieces, nephews, relatives, and friends.
A Funeral Service was held on Thursday, September 1, 2022 at 1:00PM at Bakken-Young Funeral & Cremation Services (728 S Knowles Ave) in New Richmond with a visitation starting one hour prior to the service at 12 noon. A Luncheon followed the service at the funeral home. Interment was in St. John's Lutheran Cemetery in Woodbury, MN. Arrangements are with Bakken-Young Funeral & Cremation Services.