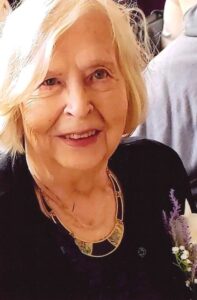 Margaret Neidermyer, age 87, died on Friday, December 2, 2022 at Prescott Health and Rehab in Prescott, Wisconsin. She was born the daughter of Glen and Myrtle Bemis on January 20, 1935 in Menomonie, WI. Margaret grew up in Spring Valley, graduating from Spring Valley High School, class of 1953. She married Gerald "Jerry" Neidermyer on June 7, 1963 in Spring Valley. Margaret worked for a few years in the Twin Cities until her youngest child was born. She then stayed home to take care of the children. Margaret loved gardening, taking care of her indoor plants, and herb garden. She enjoyed watching NASCAR and reading. Margaret was loving and compassionate.
She is preceded in death by her parents, Glen and Myrtle Bemis; stepfather, John Hampton; granddaughter, Kayla Neidermyer; siblings, Ethel, Arlene, Betty, Louis, Bob, and Marvin. Margaret is survived by her husband of 59 years, Jerry; sons, Paul (Ann), Mark (Gindy), Scott (Cindy); grandchildren, Katie Martin and Dan Neidermyer, Russell Neidermyer, Katelynn Neidermyer and Cortney LaVey; seven great-grandchildren; siblings, Shirley, Jean, Don, and Rene; and many nieces, nephews, relatives, and friends.
A Memorial Services was held on Saturday, December 17, 2022 at 2:00PM at Bakken-Young Funeral & Cremation Services (805 E Division Street) in River Falls with a visitation starting at 1:00PM. Private family interment will be in Greenwood Cemetery in River Falls at a later date. Arrangements are with Bakken-Young Funeral & Cremation Services.
Click here to watch the recording of Margaret's service.