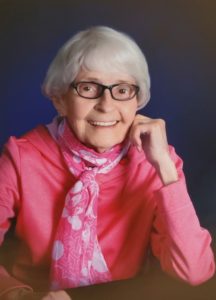 Margaret (Marge) Mary Gartner age 92 of New Richmond was called home Friday, July 2, 2021, just 19 days after her spouse of 74 years, Jerry, was called home. The strength and truth of their love would not allow any further separation. Marge spent her final days showered in love and surrounded by her family.
Marge was born November 15, 1928, to Leo and Nellie (Walsh) Briol. Marge grew up in Freeport, MN, the seventh of eight children. Marge met the love of her life, Jerry, on a blind date in 1945. She told her father the day after they met, "I'm going to marry him." They married on June 3, 1947, and soon after began building their family. Marge was a skilled seamstress, and as a young mother, she made beautiful clothing for her children. She initially worked as a waitress in the café at the Wahpeton School of Science, but her true calling was caring for others, particularly children. In addition to raising her own children, Marge nurtured and cared for hundreds of children over the years. The family moved many times before finally settling in New Richmond in 1966. Marge continued caring for children in her home for several years before accepting a job at Bartels' Kiddyland Childcare Center in New Richmond. She worked at Bartels' Kiddyland Childcare Center until her retirement in 1994. Even in retirement, Marge continued to care for her many grandchildren and other children in the community.
Marge was warm, caring, and friendly. She accepted everyone and opened her home to anyone who needed refuge, giving freely of her time and love. She was a keeper of secrets, a finder of lost things, and a soother of melancholy souls. Her capacity to love was boundless, and she loved her family above all else.
Marge is survived by her children Bev Bonczek and husband, Bill; Tim Gartner and wife, Cathy; Ann Sawyer and husband, Bob; Greg Gartner and wife, Pam; Mike Gartner and wife, Janet; Jeff Gartner and wife, Ruth; Marie Hagen and husband, Matt. Marge was blessed with 21 grandchildren, 33 great grandchildren, and 1 great-great grandchild.
A joint Mass of Christian Burial for Marge and Jerry will be held on Sunday, September 12, 2021 at 4pm at Immaculate Conception Church in New Richmond with burial in the church cemetery. Visitation will also be on Sunday from 3-4 pm at the church.  Memorial donations to a charity of the donor's choice are preferred.  Arrangements are pending with Bakken-Young Funeral & Cremation Services.