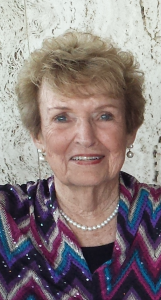 Margaret Ann (Zimmerman) Cox, a longtime resident of New Richmond, passed away on August 26th, in New Richmond, Wis., at the age of 86.
A celebration for Margie was held at 1 p.m. on Friday, Sept. 1st at St. Luke's Lutheran Church in New Richmond.  A two hour visitation preceded the service.  Arrangements were with Bakken Young Funeral and Cremation Services Beebe Chapel of New Richmond.
Margie was born on February 16th, 1931 to Myers and Lorena Zimmerman in Valparaiso, IN. She attended Valparaiso (Indiana) University and married Eugene Cox, with whom she celebrated 65 years of marriage.  She was very proud of starting up the hospital gift shop, on a cart, and we will all miss how her infectious smile brightened up a room.
Margie is preceded in death by her husband, Gene, and lovingly remembered by daughters; Barb Peterson (Mike), Karen Elkin (Jeff) and Kathy Leverentz (Tom); and son, Brian (Erin).  Margie is also survived by grandsons; Pat Donahue (Vickie), Kelly Peterson (Laura), Ben Peterson (Kristi), Brandt Elkin (Kim), Tim Elkin, TJ Leverentz, Jack Leverentz, Dylan Cox, Hunter Cox; Dane Swanda; and granddaughters; Megan Cox, Hannah Peterson (Troy), Libby Hilsendager (Jon); nieces and nephews along with nine great grandchildren.
In lieu of flowers, memorial donations may be made to St. Luke's Lutheran Church.
Margie's family wishes to thank The St. Croix Health Center staff, Lakeview Hospice Services, Bakken Young Funeral and Cremation Services, Pastor Ryan and St. Luke's Lutheran Church for their loving care and support.