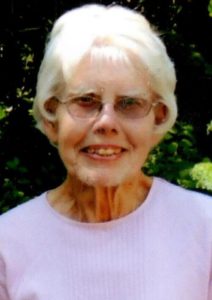 Marcella "Marcie" Lueck, age 88, died on Tuesday, June 7, 2022 at United Hospital in Saint Paul. She was born the daughter of Walter and Florence (Rohda) Wagner on March 5, 1934 in Saint Paul, MN. Marcie grew up in Grant Township, was baptized and confirmed at Saint Matthew's Lutheran Church in Withrow, and graduated from Mahtomedi High School, class of 1952. She worked at Economics Laboratory for 17 years in the payroll department, retiring in 1970. Marcie married Arnold Lueck on April 19, 1969 at Christ Lutheran Church in Lake Elmo, MN. She loved cooking, baking, and sewing. She was involved in a homemaker group in Wisconsin. Marcie donated 16 gallons of blood throughout her life. She enjoyed feeding and taking care of the animals on the farm and her two house cats, Bunny and Sheba. Marcie loved old time dancing and traveling in the United States. She was caring and kind woman who loved her family and friends. Marcie made friends easily and loved working on the farm.
She is preceded in death by her parents, Walter and Florence Wagner; siblings, infant sister, Wesley Wagner, and Ardella (George) Langford. Marcie is survived by her husband of 53 years, Arnold; son, Jeff (Jenny); grandchild, Sophia; step-grandchild, Caleb Ontiveros; sister, Kathy Wagner; sister-in-law, Young Sook Wagner; and many nieces, nephews, cousins, relatives, and friends. Memorials may be directed to the Red Cross, Salvation Army, or Ezekiel Lutheran Church.
A Funeral Service was held on Tuesday, June 14, 2022 at 11:30AM at Ezekiel Lutheran Church (202 S 2nd St) in River Falls. A Visitation was on Monday, June 13, 2022 from 4:00-6:00PM at Bakken-Young Funeral & Cremation Services (805 E Division St) in River Falls and one hour prior to the service at the church. Interment was in Kinnickinnic Cemetery. Arrangements are with Bakken-Young Funeral & Cremation Services.
Click here to watch the recording of Marcie's funeral service.