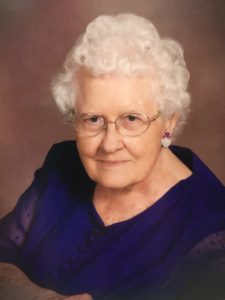 Lucille B. Strohbeen, age 95 from New Richmond, WI, passed away on July 29, 2019. She was born at her family farm home on County Road H in Star Prairie Township on Aug 10th, 1923 to Rufus and Alvina (Lutz) Strohbeen. She was baptized and confirmed at Zion Lutheran Church in East Farmington, WI. She attended Squaw Lake school (a one room school house) for 8 years and faithfully attended and enjoyed the reunions they had for as long as she was physically able. She attended high school in New Richmond graduating from NRHS in 1940. After high school she attended nurses training at the Ancker Hospital School of Nursing in St.Paul, MN, graduating and becoming an R.N. in 1944. Lucille and her friends Donna and Ronny had to wait to take the Board of Nursing Exam in February as the test was only given out twice a year and you had to be 21 to take it. They worked as Graduate Nurses at Ancker Hospital (now Regions Hospital) until that time. After passing the exam Lucille and her friends boarded a train for Camp Carson, Colorado where they were inducted into the Army Nurse Corps on March 1st, 1945. The trains were so crowded it was hard to get a seat. Service men and women and their families were traveling back and forth across the country constantly. The friends thought they could serve together but the Army had different plans. Her friend Ronny was sent to Calcutta and Donna to the Phillipines. Lucille remained in Colorado Springs, CO where she worked in the operating room on wounded soldiers and POW's. She rose to the rank of Second Lieutenant in the Army Nurse Corp and served from March 1945-May1946. She received the WWII Victory Medal.
After service she returned to Wisconsin and earned her Masters degree in Public Health from the University of Minnesota. She worked as a Public Health Nurse in Minneapolis until friends encouraged her to move to California. She moved to Long Beach, CA in Sept. of 1954 where she was a School Nurse in the Bellflower school district She worked there until her retirement in 1988. Kind words and gestures from students and staff spoke volumes for how much she was loved and appreciated during her years working in the school district. In 2009 she moved back to WI to be closer to her family. She loved to entertain family and friends both in California and in Wisconsin. She had a long standing tradition of hostessing meals all the while keeping track of what she served you as to make sure she didn't serve it to you twice! She liked to try out new recipes and was a wonderful cook. When she was no longer able to cook and serve meals, she would invite family and friends to "fine dining" offered at The Deerfield in New Richmond where she resided after moving back to the area. She loved family and appreciated having a way to still entertain. In addition to entertaining she loved to read and most of the time you could find her with one of her treasured books and/or the Bible. Lucille also had a sweet tooth for chocolate and got numerous family members to fall in love with her favorite – See's candy! She loved holidays and birthdays and would always send cards and gifts to let people know she was thinking of them.
In May of 2018 Lucille flew 1st class to Washington D.C. on the honor flight out of LaCrosse, WI as one of five WWII Veterans. She toured all the memorials and was amazed at the reception given her in appreciation of her service. She was acknowledged and thanked from the moment she left for Washington D.C. until the moment she arrived back at The Deerfield in New Richmond. She will be sadly missed and remembered for her kind, generous, and thoughtful spirit and for her love of God, church, country and family.
Lucille is survived by her sister Bernice Neidermire, brother Russell (Ina Mae) Strohbeen, brother-in-law Herb Holm, Godchildren Colleen Rivard, Brenda Demulling and Keith Strohbeen. She is also survived by numerous nieces, nephews, John (Bev) Neidermire, Dave (Gwen) Neidermire, Pam (Roger) Kumlien, Bob (Debby) Neidermire, Ann Neidermire, Mary (Jim) Rumpel, Keith (Lynette) Strohbeen, Judy Strohbeen, Kathy Holm (Scott Jost) Cindy Smith, Sue Holm; great and great-great nieces, nephews, and their spouses. She was preceded in death by her parents, sister Irene Holm, sister-in-law Eunice Strohbeen, brother-in-law Paul Neidermire, great nephew James Neidermire and great niece Rikki Strohbeen.
Special thanks to staff and everyone at the Deerfield and St. Croix Hospice for the kindness and loving care they provided her.
A funeral service was held Monday, August 5, 2019 at 11:00 am at St. Luke's Lutheran Church (365 W River Dr.) in New Richmond. Visitation was 1 hour prior to the service. Interment was in Oak Grove Cemetery in East Farmington with military honors provided by VFW Post #10818 of New Richmond. Arrangements are with Bakken-Young Funeral & Cremation Services.