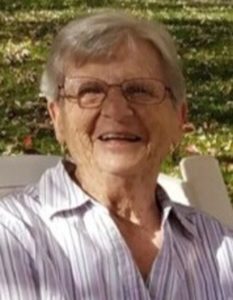 Lucille M. Hexum, age 89, passed away on Thursday, May 13, 2021 at St Croix Health Center in New Richmond. She was born the daughter of Arthur and Leona Jacobson on January 7, 1932 in Pine City, MN. Lucille grew up in Pine City, attending Pine City High School. She married Keith Hexum on October 20, 1956 in Pine City. Lucille worked for New Richmond Industries for over 30 years. She loved taking care of her yard, gardening, and bird watching with Keith. Lucille loved her grandchildren, great-grandchildren and hosting holidays at her home. She was a member of the American Legion Auxiliary. Lucille was very selfless and cared for everyone. She was the perfect wife, mom, grandma, and great-grandma.
Lucille is preceded in death by her husband, Keith; parents, Arthur and Leona Jacobson; brother, Richard Jacobson; granddaughter, Danielle Roethle; great-grandson, Alexander Lauck. She is survived by her children, Brian (Kris), Cheryl (Mike) Krumm, Tracy (Robert) Allison, Renee (Robert) Campeau, Melissa (Mark) Maple; grandchildren, David, Daniel, Jessica Lauck, Janel Habisch, Nichole Benson, Kristy Foster, Meagan Blietz, Casey Porter, Heather Perkins, Dillon Maple; 17 great-grandchildren; sister, Frances (Orv) Heinrich; many other nieces, nephews, relatives, and friends. A special thanks to Lakeview Hospice and St Croix Health Center.
A Celebration of Life for both Keith and Lucille was held on Thursday, May 20, 2021 from 4-7PM at the American Legion Post 80. Military honors was performed by the American Legion Post 80 at the cemetery. Private family graveside service was in Oakland Cemetery in Star Prairie, WI. Cremation services provided by Bakken-Young Funeral & Cremation Services.