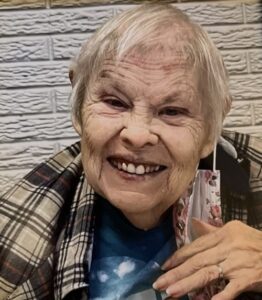 Lorraine Catherine Libbey nee Rogers was born November 8, 1945 in Baltimore, MD. She died peacefully in her sleep January 15, 2023. She was the only child of Mildred Hogan Rogers and Robert Arthur Rogers. Lorraine's mother died when Lorraine was 4 and her father when she was 13. Lorraine went on to be taken in as a foster child by the George and Virginia St. Pierre family of Springfield, MA to help raise their 6 children. Lorraine was united in marriage to Christopher J. Libbey, June 24, 1967. She is survived by her husband, Chris; her two sons, Robert (Amy) and Michael (Alicia); four grandchildren, James, Elizabeth, Thomas and Annie; as well as her 7 foster siblings, George, Paul, Mark, Rick, Cheryl, Donald and Claire Tremblay.
As a young adult, Lorraine was employed by Hilltop Children's Agency to foster 6 children. She went on to serve her community as the youth director at the New Richmond UMC, 4-H Project Leader and 20 years as the treasurer of the Hudson Alano Society. She also worked at numerous local businesses, wrapping up at Cullen Furniture.
Lorraine's life was filled with enormous obstacles even from her childhood. Nevertheless, she overcame those challenges to live a meaningful life full of purpose and love. She will be missed by all including the many members of the recovery community whose lives were impacted by her example, sponsorship and love.
Memorials may be directed to the Gift of Life Transplant House or a community service organization of your choice.
A Celebration of Lorraine's Life was held on Friday, January 20, 2023 at 11 am at the United Methodist Church 209 East Second Street, New Richmond, WI and streamed live through the link just below this obituary. Visitation was held on Thursday, January 19, 2023 from 4-8 pm at Bakken-Young Funeral & Cremation Services 728 S Knowles Avenue New Richmond, WI and on Friday from 10-11 am at the church. Interment will be in the Boardman Cemetery at a later date. Arrangements are with Bakken-Young Funeral & Cremation Services.
Click here to watch Lorraine's service