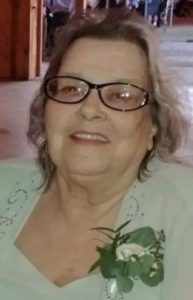 Lois Ann (nee Fisher) Smith, age 77, passed away on Tuesday, August 11, 2020 at Regions Hospital in Saint Paul, MN. She was born the daughter of Herbert and Edna (nee Harnisch) Fisher on March 16, 1943 in Menomonie, WI. Lois grew up in Menomonie, graduating Menomonie High School class of 1961. She married Robert Smith on September 23, 1961 in Menomonie, later moving to New Richmond in 1969. Lois was a homemaker and loved taking care of their children. Following Robert's death, Lois worked several retail jobs, making many friends. She loved watching her soap operas, drinking Coca-Cola, and completing puzzles. Lois enjoyed crafting, especially cross-stitch and spoiling her grandchildren. She was outspoken, strong-willed, and loved talking with friends and family.
Lois is preceded in death by her parents, Herbert and Edna Fisher; husband, Robert; granddaughter, Heather Potvin; grandson, Bob Heininger; brother, Charles (Bonnie); and sister-in-law, Donna Fisher. She is survived by her children, Starlene (James) Heininger, Brenda (Brian) Kuhn, Brian, Dawn Hacker; grandchildren, Amanda (James) Hansen, Matthew (Aly) Marsh, Jennifer (Nicholas) Fastner, Max Kuhn, Derek (Abby Zimmerman), Sammi (Austin) Bell, Ciara Muller, Jacob Larson, James Hacker; great-grandchildren, Elena, Charlee, Brianna, Cayde, Miken, Jordy, Jace; brother, Glen Fisher; and many nieces, nephews, relatives, and friends.
Guests will be asked to follow the Wisconsin Mask Mandate and all CDC guidelines for gatherings including social distancing and face masks. A Funeral Service was held Monday, August 17, 2020 at 1:00PM at Bakken-Young Funeral & Cremation Services (728 S. Knowles Ave) in New Richmond with a visitation two hours prior to the service. Interment was in New Richmond Cemetery. Arrangements are with Bakken-Young Funeral & Cremation Services.
To watch Lois' Celebration of life click the video below.