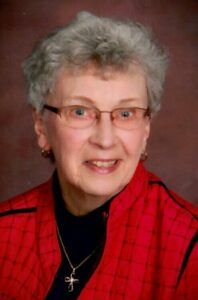 Lois Ann Satterlund, age 89, of New Richmond died Friday, October 14, 2022 at her home.  She was born January 18, 1933 to Ralph W. and Eleanor (Atkinson) Hunt in Omaha, NE.  In 1945, Lois moved to a farm outside of Malvern, IA with her mother, sister and step-father (who she always referred to as Dad).  Lois graduated high school in 1950 and worked at the Malvern Leader newspaper.
While in high school Lois met the love of her life, Lee Miller, who was in the Navy but home on leave.  In December of 1951 Lee was again home on leave and proposed to Lois, they were married on January 4, 1952.  In September 1955 they moved to Star Prairie for about a year then moved to New Richmond where they lived out the rest of their lives.
Lois worked for the Bank of New Richmond for about 4 years and then quit to be a stay at home mom for a few years.  Lois worked for Family Vision for many years and was named Optometric Assistant of the Year in 1984.  Lois helped many people in the office and at the nursing homes with their glasses.
Lois was an active member of First Lutheran Church.  She taught Sunday school, bible school and confirmation classes, was on several committees, circle and church council.
The most important part of Lois' life was her family, her 4 children (Bruce, Terry, David and Anne) have always been her main focus and joy.  Lois was active in helping with boy scouts and was a cookie mom for girl scouts as her kids were growing up.  It was not unusual to have a dozen or more kids playing in the yard as the Miller kids were growing up and that is how Lois got the CB handle of Mother Hen.
Lois was very proud to be a part of her children, grandchildren and great grandchildren's lives.  Lois was preceded in death by her parents; husbands, Lee Miller and Harold Satterlund; sisters, Shirley Hunt and Beverly Jacques; brother-in-law, Alan Jacques.  She is survived by her children, Bruce Miller, Terry (Linda) Miller, David (Becky) Miller and Anne (Paul) Wilbur; her grandchildren, Susan (Michael) Montgomery, Brad (Ellisa) Wilbur, Adam (Rika) Miller, Valerie (Peter) Meijer, Shelley (Chad) Miller, Amanda Miller and Andrew (Anna) Miller; and 11 great grandchildren.
A memorial service was held Friday, October 21, 2022 at 11:00 am at Bakken-Young Funeral & Cremation Services (728 S. Knowles Ave.) in New Richmond the service was live streamed via the link at the bottom of the obituary. A memorial visitation was held on Thursday, October 20, 2022 from 5:00-8:00 pm at Bakken-Young Funeral & Cremation Services (728 S Knowles Ave.) in New Richmond and also Friday from 10-11 am before the service.  Interment was in the New Richmond Cemetery. Arrangements are with Bakken-Young Funeral & Cremation Services.