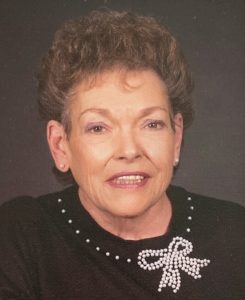 Lois Asplund-Handrahan
Lois was born in New Richmond, W.I, on July 20, 1943, to Wilbert and Lillian Schmidt. She is the oldest of two children, as her younger brother William arrived 2 years later. In her youth, Lois loved riding horses while living on the farm and enjoying time with lifelong friends.
She met Charles (Chuck) Asplund and they were married on November 26, 1966. They had a small home on the Apple River, and in 1968, welcomed their only daughter Jodi (Asplund) Jacobson. During their time together, Lois and Chuck hosted big 4th of July celebrations and other parties for their families every year.
After Charles unexpected death in 1975, Lois remarried James Beebe in 1979, which allowed her to become the stepmother to Kris and Troy Beebe.
In 1986, Lois married again to Richard Handrahan, and they moved to Webb Lake in Danbury, Wisconsin, allowing her to become the stepmother to Jim, Pam and Tammy Handrahan.
Lois enjoyed traveling, spending time with her family, and being the light of the party. Lois traveled throughout the country including Hawaii and Mexico. Lois loved everything about Christmas, and always had the best decorations for the holiday season. Lois would always be the first person to offer to host any type of party and always provided a spread of snacks and drinks.
Lois will be missed dearly by many and has left an afterglow of light and love in her place.
Lois is preceded in death by her grandparents Herman and Emma Domke, grandparents William and Emma Schmidt, parents Wilbert and Lillian Schmidt, her brother William Schmidt, and her husband Charles Asplund.
Lois is survived by her daughter Jodi (Asplund) Jacobson, son in law John Jacobson, grandchildren Bailey and Justin Huppert, great grandson Thomas Steele, sister-in-law Elaine Schmidt, and many loving nieces and nephews.
A memorial service was held on Saturday, August 13, 2022 at 12:00 noon at Bakken-Young Funeral & Cremation Services (728 S Knowles Ave.) in New Richmond.  Visitation was also Saturday from 11:00-12:00 at the funeral home.  Private interment will be in Oakland Cemetery in Star Prairie.  Arrangements are with Bakken-Young Funeral & Cremation Services.