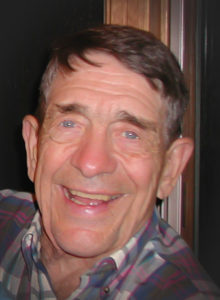 Lloyd Ernest Pahlow, age 86, of New Richmond, WI, was called home to be with the Lord on Sunday, April 4, 2021.  Lloyd (Husband, Dad, Grandpa, Great-Grandpa, Brother, Uncle, Friend) was born on December 5, 1934, in Turtle Lake Township to Ernest and Lucy Pahlow.  He grew up with his 3 sisters on a farm east of Clayton and received his Bachelor of Science degree in Agriculture at the University of Wisconsin – River Falls.  He later taught farming to veterans in southwestern Wisconsin returning from the war.  Lloyd eventually went to work as a master plumber, owning Barron Plumbing & Heating in Barron, WI, for many years, where he and his wife, Judith (Zemke), raised 6 children.  He taught his children the love of travel, shared his joy of fishing in Canada and on Lake Michigan, and hunted deer, elk, and bear with his family and friends in Wisconsin, Colorado, Canada, and Alaska.  He married JoAnn Bolton Gunderson on May 2, 1998, at the Little Brown Church in the Vale.  They traveled the United States and the world together, wintering in Texas, and exploring Mexico, Australia, New Zealand, and Europe.  He spent his last few years at Orchard View Terrace in New Richmond, WI, with JoAnn, near his children and grandchildren who will always treasure his memory in their hearts.
Lloyd was preceded in death by his parents; daughter, Colleen Mallick; and sisters, Marie LaBlanc and Jeanette LaBlanc.
He is survived by his wife, JoAnn Pahlow of New Richmond, WI; sister, Karen (Richard) Atkins, of East Bethel, MN; children, Carrie Olwin of St. Paul, MN; Connie (Robert) Glogowski of Dunedin, FL; LuCinda (Dwight) Beebe of New Richmond, WI; David (Joanna) Pahlow of Florida; and Jody (Brian) Farley of Waseca, MN; stepchildren: Roy (Lynn) Gunderson, Sandra (Mark) Pittman, Glen (Kathy) Gunderson, Paul (Cyndi) Gunderson, and William Gunderson.  He also leaves behind many grandchildren and step-grandchildren: Shawn Olwin, Steven (Emerald) Glogowski, LeNae (Adam) Schwickerath, Tammi (Mike) Law, Nathan (Amy) Bernstein, Corissa (Chris) Jesseman, Tiffany Pahlow, Rebecca (Matt) Cormier, Breanna (Ryan) Burris, Ashley Mallick, Devin Mallick, Aidan Farley, Ethan Farley, and Emily Farley; Kayla, Courtney, Matt, Rebecca, Sam, John, Elliot, Teddy, Mario, Lauren, Brandon, Justin, and Jesse; great-grandchildren: Dylan, Tate, Marley, Sophie, Aubrey, Brynlee, Killian, and Colt; step-great grandchildren, and many nieces and nephews.
We celebrated Lloyd's life with a service at 11am, Friday, April 9th, 2021, at the Bakken-Young Funeral Home (728 S Knowles Ave) in New Richmond, WI.  Pastor Ryan Schroeder officiated.  Visitation for friends and family was held from 9 to 11am on Friday. Guests were asked to practice physical distancing and wear face masks.  Lloyd's service was also livestreamed via a link found at the bottom of the obituary.   Interment followed the service in Mount Hope Cemetery in Turtle Lake, WI. Thank you to the staff at Orchard View Terrace for lovingly caring for him.  Arrangements are with Bakken-Young Funeral & Cremation Services.