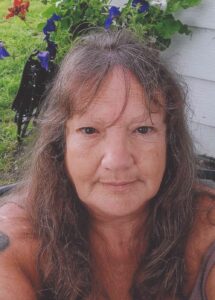 Linda Lou Auger (ojay, of french Canadian descent) passed away far too soon. Born 2/27/1960 – 1/9/2023. She was preceded in death by her parents Joseph and Shirley (Christenson) Auger; and her so deeply loved, dutiful, patriotic son, SFC Jeremy Most, United States Army. She is survived by her two daughters, Tiffany (Matt) McIntosh of Pepin, WI and Jasmun (Jay) Hoyer of Red Wing, MN; grandchildren, Seth Kempe, Kaitlan Kempe, Breann Jenkin; as well as sister, Sharon Glaus of Shoreview, MN; brother, Lee Glaus of Forest Lake, MN, and her love in life and partner, Joseph Matzke of Amery, WI.
A memorial service was held on Thursday, January 19, 2023 at 1:00 pm at Bakken-Young Funeral & Cremation Services (805 E Division St.) River Falls.  Visitation was from 11:00-1:00 pm at the funeral home with a luncheon following the service.  Any and all wishing to attend and celebrate her life are welcome.
Click here to watch the recording of Linda's service.