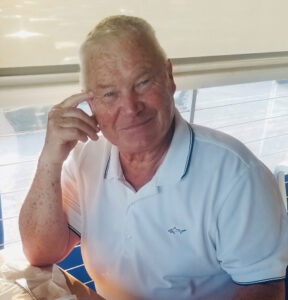 LeRoy Martin Lee of Spring Hill, Florida (formerly of River Falls, Wisconsin) passed away on November 2nd, 2022, at the age of 83. After several months of declining health resulting from multiple myeloma, LeRoy Lee died peacefully at home with his beloved wife Judy by his side. The world has lost a great husband, father, grandfather, brother, educator and overall "good guy." LeRoy was a genuine, kind and compassionate man who cared deeply for others, especially his wife Judy, his children and his grandchildren.
LeRoy was born in Newry, Wisconsin on April 30th,1939 to parents Orville and Ada Lee. One of five children, he worked on his family's tobacco farm starting at a very early age. While growing up he was a successful baseball player and participated in the school's marching band. LeRoy graduated from Westby High School in 1957 and then attended the University of Wisconsin Eau Claire where he graduated with a Bachelor of Music Education in 1962. LeRoy lettered in both baseball and music during his time at UWEC, for playing catcher on the college baseball team and participating in several college musicals and ensembles.
LeRoy started his teaching career in the Prairie Farm School District where he met his first wife Marlene (Westlund) Lee. They had two daughters Molly and Penny. They moved to New Richmond, WI where LeRoy began working at New Richmond High School as a band director. While at New Richmond, LeRoy put together a parade band that won several sweepstake circuits and championship parades. In 1976, the New Richmond High School Marching Band represented the State of Wisconsin in the Inauguration Parade of President Jimmy Carter under LeRoy's direction and leadership.
In 1980 LeRoy began his tenure at River Falls High School. It was there that he rose to prominence as an outstanding marching band field show designer. His cutting-edge musical arrangements, combined with award-winning colorguard and percussion sections quickly defined the "River Falls Style" that would set the standard of excellence for the next two decades. His never-ending phrase of "one more time" while snapping his fingers and having a smile on his face was frequent at each of his rehearsals and it really meant playing a musical selection or running a field show drill many more times. "Mr. Lee" was a teacher of high expectations, standards of precision, strong values and overall commitment and he positively influenced countless students, educators, and community members. LeRoy was recently inducted into the Wisconsin State Music Association's Marching Band Hall of Fame for his marching band advocacy. He always gave credit to his students for the successes that came his way, including this recent honor.
River Falls High School is where he met his wife Judy Clement, also a teacher, and they were married on April 28th of 1990. Judy and LeRoy enjoyed 32 years of marriage together, which included retirement adventures of travel, family, friends and fun. Music always found a place in his life as he always enjoyed attending musical events, especially Judy's Sweet Adeline concerts. LeRoy loved his time outdoors. He was an avid golfer and spent his spare time "beautifying the boulevards" of Gateway to the Valley North on his John Deere tractor. Plowing snow in his driveway each winter was an art form that he found to be of great joy and accomplishment so that his grandchildren could enjoy sleigh rides behind his tractor. LeRoy was a reliable fan of the Packers, Brewers and Badgers as well as a proud spectator of his grandchildren's music and sporting events. LeRoy and Judy traveled each winter to Florida where they made their permanent residence in sunny Spring Hill, Florida.
LeRoy was preceded in death by his parents and his son-in-law Rhone Hamilton. He is survived by his wife Judy Clement-Lee; children; Molly (Eric) Roeske and Penny Hamilton, stepchildren; Dan Clement, Stephanie Clement, Craig (Carmen) Clement and Renee (Todd) Dolan and grandchildren; Grace and Veda Roeske, Roman Hamilton, Zachary and Olivia Dolan, and Santiago and Camillo Clement. Sisters; Doris Halverson, Maxine (Orland)Olson, Brothers; Russell (Margaret) Lee and Ivan Lee and many nieces and nephews, friends, colleagues and students.
A Mass of Christian Burial was held Friday, November 11, 2022 at 11:00 am at St. Bridget Catholic Church (211 E Division St.) in River Falls.  Visitation was held Thursday, November 10, 2022 from 5-8 pm with prayer service beginning at 7:45 pm at Bakken-Young Funeral & Cremation Services (805 E Division St.) in River Falls.  Visitation was also on Friday from 10-11 am at St. Bridget Catholic Church.  Interment was in Greenwood Cemetery. Arrangements are with Downing Funeral Home in Spring Hill, FL and Bakken-Young Funeral & Cremation Services.
Those wishing to honor LeRoy's lifelong commitment to family, students and community can make donations to "Rhino's Foundation," a non-profit organization that supports families and their caregivers in Western Wisconsin who have been impacted by cancer (https://www.rhinosfoundation.org/donate )or a charity of your choice.
Glory! Glory! Hallelujah! His truth is marching on.
Click here to watch the recording of LeRoy's service