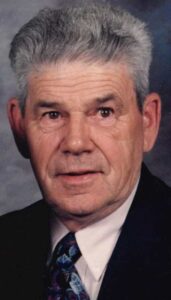 Leon Kearns, age 90, died on March 19, 2023 in Woodville, WI. He was born the son of Edward and Rose Kearns on August 30, 1932 in Pepin, WI. Leon grew up in Plum City, WI graduating from Arkansas High School. He served in the US Army for three years, stationed in Korea, and honorably discharged in 1955. Leon married Arlette Kaufman on June 22, 1957 in Eau Galle, WI. Leon worked as an electrician in Red Wing, MN, for 3M, and Honeywell. In 1961, Leon and Arlette moved to Hudson where Leon started his own company Kearns Electric, in the late 70s he extended his business to include heating, serving the St Croix area. He loved raising, and flying homing pigeons where he won many awards. Leon was an avid gardener and cook. Catholic faith was extremely important to his life. He enjoyed hunting with the children, selling raccoon pelts, and being a beekeeper. Leon was a handyman and fixed everything around the home. He was a determined Irish and German man who was self-sufficient.
Leon was preceded in death by his parents, Rose and Edward; son, Michael; sisters, Kathleen (Don) VonBargen, Karlene Gauvin, and Julie Anne Cavanaugh; brothers, Lyle, Marvin (Joan), and Lloyd; son-in-law, Steve Kromer. He is survived by his wife, Arlette; children, Cindy (Dennis) Severson, Linda Kromer, Rich, and Gina (Mark) Walters; grandchildren, Ryan Severson, Jenna (Micah) Frank, Travis Severson, Amanda (Greg Murphy) Severson, and Jessica (Kory White) Severson, Rozalyn (Taylor) Manor, Shane (Kiymeny) Kromer, Shelby and Sarah, Alysha Walters, Abby (Adam) Ninnemann, Anissa (Tom) Reamer; great-grandchildren, Connor Severson, Liam Murphy, Keegan Murphy, Finley Murphy, Evelyn Kromer, Ruby Manor, Aleah Ninnemann, Adam Jr. Ninnemann, Charlotte Reamer; siblings, Norbert (Caroline), Carol (Denny) Haglund, Judy (Chuck) Guetschow, and Bill; brothers-in-law, Ronnie Gauvin, Bruce Cavanaugh; sisters-in-law, Darlene and Peg; and many other nieces, nephews, relatives, and friends.
A private family prayer service was held at Bakken-Young Funeral & Cremation Services with burial of his urn in Saint Patrick Catholic Cemetery in Hudson, WI. Arrangements are with Bakken-Young Funeral & Cremation Services.