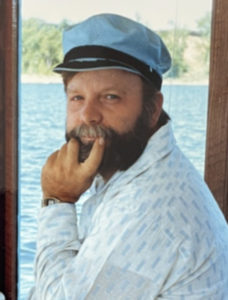 LeeRoy P. Halberg, age 74, of Waterford, Wisconsin, formerly of River Falls, died in the hospital in Libertyville, IL on July 1, 2022. Lee was born in River Falls on January 22, 1948, to Bert and Helen (Pedersen) Halberg. He graduated from River Falls High School in 1966 and the University of Wisconsin – Stout in 1970 with a degree in Industrial Technology Education.
Lee married Kathleen (Thompson) Halberg on December 28, 1969 and the couple moved to Wausau, WI where Kathy taught first grade and Lee taught high school courses in industrial technology –electricity/electronics. When Lee's father died in 1972, Lee and Kathy moved back to River Falls where Lee worked as a substitute rural mail carrier and substitute teacher until getting a job with the River Falls School District as a non-print media technician. He represented the school district of River Falls on the city's Cable Commission which fathered cable TV in River Falls. Lee was an early pioneer in cablecasting school board meetings, concerts, and athletic events. He was also a member of the committee responsible for the acquisition and installation of TV equipment at Ezekiel Lutheran Church where he recorded church services for cablecast for many years. He and Kathy also sang as church choir members at Ezekiel Lutheran and Mt. Zion in Hudson, WI.
Lee loved visiting with family, attending concerts, and puttering in his workshop. He was always project-oriented and whenever he didn't have the money to buy something, he would build it. Over the years he built a trolley car to take friends and family down to the river, a log splitter, a tree house and swing set for his kids, and hundreds of other smaller projects. His favorite and largest project was a houseboat he designed and built over seven years in the backyard. He delighted in having treasured friends come for a boat ride.
Lee also loved to play music. As a young boy, he was encouraged by his mother to take accordion lessons, which led to him playing accordion in high school in an old-time German band called the Germaines with four friends. He also enjoyed flying. In 1973, Lee attained a pilot's license and flew a Cessna 172 with the River Falls Flying Club.
Lee and Kathy were blessed with two children, Michelle Lee (Halberg) Burns, born in 1976 and Perry Steven Halberg, born in 1979. The family lived in their home on the St. Croix River where Lee was proud of the heritage of the Halberg farm, established by his grandfather in 1888. Lee loved his river and always had a boat or two for waterskiing and entertaining friends. In 2012, Lee and Kathy moved to Waterford, WI to be near their grandchildren.
Lee was preceded in death by his parents, Bert and Helen Halberg, sister Joyce Bates, parents-in-law Kelly and Daphne Thompson, and brother-in-law, Doug Thompson, all of River Falls, as well as numerous aunts, uncles, and cousins. He is survived by his loving wife of over 52 years, Kathy, their children Michelle (Bill) Burns of Verona, WI, and Perry (Stephanie) Halberg of Waterford, WI, three grandchildren, Austin, Andrea, and Mya, sister Eileen Wymer of Hudson, nieces, nephews, in-laws and their families.
Lee will be greatly missed by his loving family and friends.  A Funeral Service was held on Friday, July 8, 2022 at 11 am at Mt. Zion Lutheran Church 505 13th Street South Hudson, WI and streamed live through the link just below this obituary.  Visitation was on Friday from 10-11 am at the church.  Interment was in Greenwood Cemetery in River Falls, WI.  Memorials may be directed to the National Kidney Foundation of Wisconsin 10909 W. Greenfield Ave, Suite 201 West Allis, WI 53214.  Arrangements are with Bakken-Young Funeral & Cremation Services.
Click here to watch the recording of Lee's service