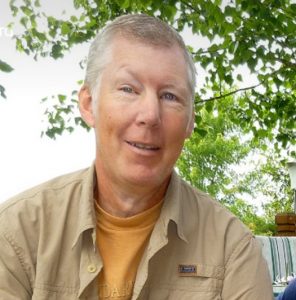 Lee Bradley Branjord, age 57, passed away peacefully on May 19, 2017, after a 16-year battle with cancer.  Most of his life was spent in the New Richmond area. He graduated from NRHS in 1977 and furthered his education at WITC, earning a degree in the Packaging Machinery program in 1979. He served in the Air Force and in 1984 returned home to New Richmond. He married and raised his son, Logan, in the area. He worked at St. Croix Press for 28 years.
He was a rich man in every way that counted. His three grandchildren amazed and delighted him.  Fishing trips with his friends were highlights of his life. He turned his acre of land into a beautiful garden, boasting flowers which seemed to grow bigger and brighter each year. It was here he was at peace, surrounded with the land, birds and woods he loved. With the help of his family and loyal friends he was able to stay there up until the very end.
He is survived by his son, Logan Branjord (Hannah) and grandchildren Grace, Cora and Jack Bradley Branjord (namesake of Lee Bradley) of Hastings, Minnesota; mother, Mary Lewerenz Barney (Mike) of New Richmond; father, Gerald Branjord (Sandy) of Phoenix, Arizona; and numerous aunts, uncles, nephews and cousins. He was preceded in death by his brother, Joel, in August, 2016.
The family would like to thank his friends who helped and supported him through good times and times that were more difficult.  We will never forget your kindness and for being there.
We would like to invite friends and family to a Celebration of Life, Saturday July 29, from noon to 3:00 at 1573 210th Avenue, New Richmond, Wisconsin.  Arrangements are with Bakken-Young Funeral & Cremation Services Beebe Chapel of New Richmond.