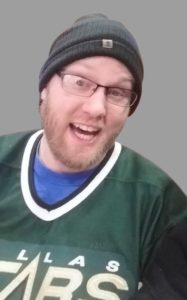 Lee Edward Bova
22 December 1986 – 8 January 2022
Lee was born 22 December 1986 at St. John's Hospital, Saint Paul, Minnesota. The youngest of five children he was surrounded with love and attention immediately. The first 2 years of his young life were in Newport, Minnesota and then his family moved to Woodbury, Minnesota where he spent the remainder of his childhood.
He attended Royal Oaks Elementary, Lake Junior High and matriculated from Woodbury Senior High School in 2005.
Lee had hoped to join the United States Marine Corps and pursue his calling for his life's work of being a peace officer. Sadly, this could not be endeavored due to his Type1 diabetes diagnosis at the age of 13.
Lee was always a dependable, diligent worker. He worked in retail, logistics, and the hospitably industry. To say he left an impression in his places of employ would be stating it mildly.
The things Lee sought interest in were varied and changed as he went through life. He played baseball, football and basketball. Became interested in skateboarding and making comedic videos with his childhood friends.
Lee never married but was engaged to Angelica Barrera. He absolutely and unequivocally loved Angelica and her children Jennifer and Rodrigo. His new family grounded him and gave him renewed purpose.
Those of us that know Lee best will remember him for many things:
 His selflessness and limitless willingness to help others;
 His unconditional love for family, friends and oddly enough complete strangers;
 His genuine affection, kindness and patience & joy of children, especially his nephews, niece and young cousins;
 His overall pleasant, positive and upbeat disposition – accompanied by a terrific sense of humor – quick witted albeit a bit dry at times – an uncanny gift to make others laugh and smile; and
 A refusal to indulge in self-pity, not wanting to be treated as disabled nor have anyone feel sorry for him.
Lee is survived by: Parents – Colleen and Rick Wobse, Edward Bova; Siblings – Jay (Nakia), Alanna Adam (Jeff), Nicole Bova (Red), Dana Bova, Jennifer McLaren (Jason), and Ryan Wobse(Jessica); Aunts – Christine Waxon, Annette Schwartz (Doug "Uncle Bug"), Deanna Germscheid (Walter), Vicki Lee-Jones (Peter); Nephews and Nieces – Jay "Junior" Mejia, Jarred Mejia (Livvi), Edward "Bashie" Harting, Isla Harting, Aurora Wobse and Dyson McLaren; Cousins- Allison Waxon, Katherine Ford (Brian), Brandon McGrath (Katie), Gage McGrath, Charisse Fritz-Vaidich (Chad) , Dalton Springer and many other loving cousins.
Preceded in passing by: Grandparents; James Bova, Janice Bova-Sellner, Herb Peterson, Geraldine Taylor; Uncles; Terry Taylor, Ricky Schwartz, Douglass Schwartz, Anthony "Tony" Bova, Robert "Bob" Waxon; Aunts – Lauren "Mickey" Taylor.
A very small Memorial Service (basically family) was held in River Falls, Wisconsin (Bakken-Young Funeral Home).
A celebration of life to follow @ Tinucci's Banquet Room, 396 21st Street, Newport, Minnesota 55055
Saturday 29 January 2022, 4:30pm -7:30 pm
Eulogy and Remembrances 5:30 pm
If at all possible, ask that you RSVP to bovacftservices@ gmail.com no later than 24 January 2022 confirming your attendance at Tinucci's
We implore memorials to Lee Bova Family to assist his fiancé and family.
Additionally, we have setup a GOFUNDME page;
https://gofund.me/c25e6eb7