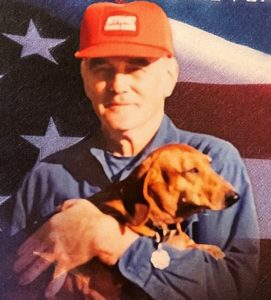 Larry Wallin, age 86, of Stockholm, WI, died on Friday, June 17, 2022 at the Glenhaven Nursing Home in Glenwood City, WI.
Larry was born on May 11, 1936, in Stockholm, WI, the only child of Stanley and Rosella Wallin. He grew up on Lake Pepin, just north of Stockholm, and graduated from Maiden Rock High School, and then served in the Marines for two years.
He worked as a carpenter and painter, as well as a hobby farmer, tending strawberry and raspberry fields where visitors could pick berries, with the beautiful backdrop of Lake Pepin.
Larry was a quiet and private man, but he had many passions that brought meaning to his life. He loved nature and maintained colorful gardens, along with his collection of hostas, which were his favorites. He also loved dogs, and had a succession of dachshunds that he named after flowers, such as Violet, Rose and Lily, as well as Gretchen, his faithful and long-living dachshund. Larry also had a brood of ornamental chickens that brought more color to his homestead.
He travelled often with his parents and also on his own. He loved the spirited Irish music of River Dance. In later years, he lived at the Pepin Nursing Home until it closed, and then moved to the Glenhaven Nursing Home in Glenwood City.
Larry is survived by his first cousins, Tom (Rita) McDonnell of Durand, WI; Max (Carol) Kassara of Aledo, Texas, and Adeline Florness of Bay City, WI, and many other cousins and friends. Special mention of cousins Gary & Kim Feller of Eagan, MN and Ken & Marian Peterson of Stockholm, WI, who bought land from Larry and became an important part of Larry's life. Ken & Marian were faithful close neighbors, who shared daily hot meals with Larry, helped with his home and yard, and when Larry later moved to the Pepin Nursing Home, Ken visited him every week, bringing the Sunday newspaper and local news, and Marian helped buy clothing and other necessities that Larry needed. They embodied the truest sense of community kindness.
A memorial service was held on Saturday, July 9, 2022 at 11 a.m. at Calvary Covenant Church in Stockholm, WI, following visitation from 10-11 a.m. Pastor Mark Coronna officiated. Interment followed at the Oak Ridge Cemetery at the Tabor Lutheran Church near Bay City, WI, with Military Honors provided by the Maiden Rock American Legion Post #158. Services were provided by Bakken-Young Funeral & Cremation Services, River Falls, WI.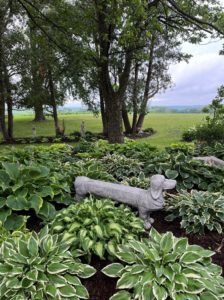 "Larry's Garden" – Larry planted 30 hostas at the Adeline (Bjurquist) Florness farm as a gift. The 'dachshund bench' was later added from a silent auction at Stockholm Dog Days. A sweet legacy.