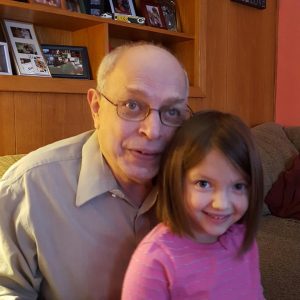 Our beloved Uncle Larry Montalto, age 65 passed away unexpectedly on November 27th, 2017.
Uncle Larry was preceded in death by his father and mother, Angelo and Josephine Montalto, and brother Pat Montalto. He is survived by: brother Michael and wife Madeline Montalto of Staten Island, NY; brother Richie and wife Chris Montalto of Fairlawn, NJ; and sister Linda and husband Dan Semi of River Falls, WI.  Very close to Uncle Larry's heart also, were his cousins Steven (deceased), Dennis, Mark, and Vincent and their parents, Uncle Jimmy, and Aunt Lil (deceased).
Uncle Larry also had hundreds of others who knew him as "Uncle Larry". His immediate nieces and nephews were Michael, Lenny, Tommy, Diane, Sherry, Kevin, Michelle, James, Lisa, Jaime, Corrie, Cristina, Sara and Biza. Uncle Larry also had a host of grandnieces and nephews each one of them stealing a piece of his heart. He grew up in Brooklyn NY, lived a large portion of his adult life in N.J. and then moved to Wisconsin in 2009. Uncle Larry worked on Wall Street as Paine Webber's V.P. for countless years and settled into a quiet retirement here in Wisconsin.
We celebrated Uncle Larry's life on Friday December 1st beginning at 6:00 p.m. at the Semi home at 517 N. 8th St. River Falls. Later this spring there will be a celebration out east. We welcome anyone to come share their memories.
Cremation services provided by Bakken-Young Funeral & Cremation Services of River Falls.