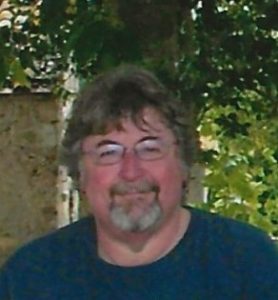 Dr. Larry Harred of River Falls, Wisconsin, passed away on December 30, 2020, with his wife at his side, telling him she loved him and holding his hand.
Born in Dallas, Texas, on November 17, 1951, to B.R. and Eva (Lawrence) Harred, Larry grew up in the Pleasant Grove section of the city and graduated from W.W. Samuell High School.  He earned a Bachelor's degree at the University of Texas, Arlington, and a Ph.D. at Purdue University.
He met the love of his life, Jane (Thielman), while at Purdue.  They were married in Lafayette, Indiana, on August 10, 1980.
As a professor in the English department at the University of Wisconsin-River Falls from 1980 to 2012, he loved introducing his students to Native American literature, detective fiction, and autobiography.  He created the campus Writing Center and acted as its director for many years.  He established the Academic Success Center, writing the initial grant that funded it and serving as its first director.  He also directed UW-RF's pre-major program, co-directed a project to infuse literature by women of color into the curriculum, and served on the Faculty Senate.  He was honored twice with a Compass Award for his positive influence on first-year students.
He spent a year as a Fulbright scholar at the university in Alcala de Henares, Spain, helping to launch their program in North American Studies.  He and Jane enjoyed traveling throughout the country while there and were famous for fifteen minutes in the tiny town of Algodor.  They also lived for a happy four months in Dalkeith, Scotland, while participating in the university's Wisconsin in Scotland program.
An enthusiastic traveler, a voracious reader who enjoyed his book club, an officer in the local retired educators' organization, a music lover with tastes ranging from Beethoven to James Brown, a movie fan with an amazing memory for detail, Larry especially enjoyed gathering with Jane and their friends and was a fine cook who made a fantastic paella.  He was allergic to dogs but loved them anyway and took joy in many things, from the music and food of New Orleans to the bunnies and deer in the back yard.   Despite having pitched for America's worst amateur softball team, he remained an ardent and knowledgeable baseball fan and Twins' supporter.  According to a young friend, there is no excuse for the Twins not to win it all in 2021, now that Larry is calling the shots.
He was preceded in death by his father.
He leaves behind his wife, his mother, one brother and his wife, two nephews and their wives, a niece, five grandnieces, a brother-in-law and sister-in-law, and many friends who will miss him deeply.
As his brother-in-law said, the world will be a dumber place without him.
Memorials honoring him are preferred to
Department of Development
Mayo Clinic
200 First St. SW
Rochester, MN 55905
A memorial gathering will be held at a later date.