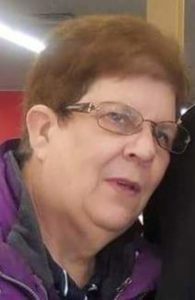 Lana Louise (Walters) Foster, age 70 of River Falls, WI, died on Saturday, June 2, 2018 at United Hospital in St. Paul, MN. Born in Lansing, MI August 4, 1947, her family moved to GA, TX, MI, and she graduated from high school in Cincinnati, OH in 1967.
In 1972, she moved to Rochester, MN with IBM. She married James Michael Foster May 18, 1991, in Rochester, MN. She was ever grateful for the acceptance of his three children; her greatest joy being grandmother to six grandchildren.
Lana earned a teaching license for MN post-secondary work processing, but served as an executive secretary for 42 years, in several industries, including Union Central Life Insurance, IBM, Mayo Clinic, and owned and operated Rochester Secretarial Service for 13 years. Her career ended prematurely when disabled by severe Rheumatoid Arthritis in 2007.
Lana possessed a genuine love of children, nature, and all animals, especially dogs. She enjoyed creating greeting cards and writing poetry and short children's stories. She traveled to Africa with Every Child Ministries in 2002, helping build Haven of Hope, a home for the street children of Accra. She loved the Lord, and had a grateful heart for His faithfulness, describing her life a "truly blessed." She felt compelled by the Holy Spirit to introduce "Live Nativity" to First Covenant Church of River Falls in 2010, which continues annually. She kept a "12 Days of Christmas" collection of items depicting the literal and Biblical meaning of each symbol in the song. She created a Family Photo Tree of her maternal grandmother's family, finding many relatives she never knew existed and began communications with many of them through Facebook. She served in her living complex, maintaining a resident photo directory, organizing a river lunch cruise for residents, as Treasurer of the Friendship Club, and making personalized greeting cards for residents.
Lana was preceded in death by her parents, Helen (Walters) Mooi in 2004 and Homer E. Walters in 1969; and step-son, James Patrick Foster in 2011.
She is survived by husband, Jim Foster of River Falls, WI; sister, Sharyl (Walters) Albright of Portage, IN; step-daughter, Jacky (Shannon) Nelson of Hastings, MN; step-daughter, Jennifer Foster of River Falls, WI; step-daughter-in-law, Karin Foster; grandchildren, Austin, Caitlyn, and Adam Nelson of Hastings, MN; Noah, Dylan, and Nichole Foster, of Mora, MN, along with many nieces, nephews and cousins.
A memorial service was held Saturday, June 30, 2018 at 11:00 AM at First Covenant Church (1374 North Main Street, River Falls, WI 54022) with visitation one hour prior to the service. Private family interment was held in St. Bridget's Cemetery at a later date. In lieu of flowers, memorials are preferred. All memorials will be donated in Lana's name to the First Covenant Benevolent Fund.  Arrangements are with Bakken-Young Funeral & Cremation Services of River Falls.