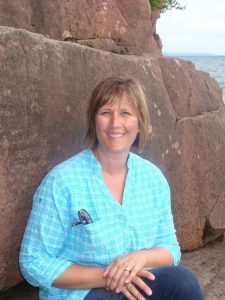 Kristen Ann McGregor-Linehan was born on April 13th, 1966 in New Richmond, WI to her parents Eleanor and Jon McGregor. She grew up attending school in Hudson and River falls, participating in soccer and ski club.
She went on to attend college at the University of Wisconsin in River Falls, where she graduated with a bachelor degree in education. She worked for many years as a teacher and a substitute teacher, while pursuing in many other interest such as photography and jewelry design.
In September of 1996, she married her high school sweetheart Chuck Linehan from River Falls. They have been together since she was 15. In 1998 Chuck and Kristen brought a newborn into the world. Their son. Mason Linehan. He was soon joined three years later in 2001 by their daughter, Ellie Linehan.
Kristen soon introduced her two kids to the sport soccer. With both kids becoming avid soccer players at a young age, Kristen became a sports mom attending and supporting them through community leagues, school teams and academy teams. She never missed a game.
Aside the busy life of sports and kids, Kristen worked for many years at Seasons on St. Croix in Hudson WI, making jewelry and making many wonderful friends with her co-workers and clientele. During the last few years, Kristen took a job at Schuler Shoes in Woodbury. She had a big heart for shoes.
Kristen was an artistic soul with a deep passion for living. She lived one day at a time, and she was thankful for everyday God gave her. She loved her family and friends deeply and was very grateful and proud for the two wonderful children she brought into the world. She gave everything her all and always put other before herself no matter what the situation was.
Kristen was diagnosed with stage two breast cancer in 2008. After fighting and having the cancer removed, she was cancer free for five years. In 2013 her cancer had come back and had also metastasized into her liver as stage four. Ever since August 8th of 2008, Kristen has been a fighter. She had many ups and downs in her journey but had many family and friends supporting her along the way.
On January 5th of 2017 this young lady passed away peacefully in her home with family and friends present. With all the love and tears that are being shared, her family will remain strong. Just as strong as Kristen was. Kristen was an amazing person inside and out and now it's her time to be an amazing angel guiding her loved ones along the way.
Survived by Husband, Chuck Linehan; children, Mason and Ellie; parents, Ellie (Larry Dorman) McGregor, Jack McGregor; brother, Eric McGregor; father-in-law, Bob Linehan; sister-in-law, Debbie (Dale) Affolter; nephews, Jackson McGregor, Troy (Danette) Affolter; niece, Tiffany Affolter; grand nieces and nephews, Benjamin, Gabrielle, Olivia, Taylor, and Craig. Preceded in death by mother-in-law, Jan Linehan.
Memorial Mass of Christian Burial was held on Monday, January 9, 2017 at 11 am at St. Bridget Church in River Falls. Memorial visitation was also held on Monday from 9 – 11 am at the church.  Arrangements are with Bakken-Young Funeral & Cremation Services of River Falls.