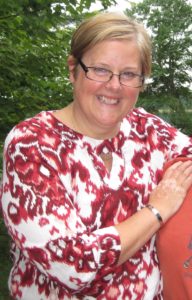 Kristen Leigh Ainsworth, age 61 of River Falls, Wisconsin earned her angel wings on Monday, June 10th, 2019. Kris believed that life was short and you should make the most of it. While we are saddened that she only had a mere 61 years on this earth, she packed a lot of experience into those years. One of Kris' famous statements was "don't do anything I wouldn't do!", to which we could respond, "well that leaves us wide open!". Kris believed in living life without regret, being happy and thankful.
Kris was born on January 16th, 1958, daughter to Jerome and Marjorie (nee: Omann) Mittelstadt. Kris was an amazing daughter and sister. She learned much from her exceptional parents, especially her love of helping and serving others, her love of cooking and her passion for her family. In 1980, Kris was united in marriage with Scott Ainsworth and had two daughters, Sarah and Katie. Kris was an incredible mother, foster mother and "mother figure" to many. She always had wisdom to share, encouragement to give and a shoulder to cry on. Kris enjoyed working at the River Falls Clinic for many years, volunteering with Rotary Club and River Falls Area Chamber of Commerce. She loved meeting new people, solving problems, cooking for others and spreading joy. Kris embraced spending time with family and friends, especially two important groups "The Sisterhood" and "The College Crowd". Kris understood the incredible fortune of having great friends and she relished the time she got to spend with the important people in her life. Kris' ultimate job began when she became a Grammy in 2015. She could often be found in the kitchen helping her grandsons sneak a treat before dinner.
Kris is survived by her husband of 38 years, Scott, daughters Sarah Ainsworth and Katie Ainsworth, grandsons Jay and Noah, sister Geri (Rob) Tuttell, brother Kevin Mittelstadt, nephew Daniel Graham, nephew Chris (Stacy) Tuttell, niece Jen (Derek) Arnholtz, great-nephews Ethan and Wesley, "The College Crowd", "The Sisterhood" and many other family and friends.
A Celebration of Life is planned in Kris' memory on Saturday, July 20th, 2019 from 1-4pm at Hoffmann Park. There will be food, music, pictures and most importantly, JOY. If you plan to join us to celebrate, please bring your own chair and beverages.