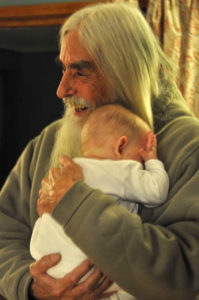 Kirk Edward Chaffee, 70
b. January 18, 1947 d; December 21, 2017
Kirk Edward Chaffee died peacefully at his home with his family on Thursday, December 21.
He was born January 18, 1947 in Rochester, Minnesota, the second child of Zane and Florence (Nickum) Chaffee. The family moved to River Falls in 1964 and Kirk graduated from River Falls High School the following spring. He received a Bachelor's degree in Math Education from UW-River Falls in 1972 and a CISCO Networking Professional certificate in 2000.
Although teaching was not a career that suited him well, he found other employment that was a better fit, including bartending at PR's Place, working at Clifton Hollow Golf Course, driving school bus for the River Falls School District for many years, and eventually leading the district into the Internet Age as network administrator.
In the last decade of his life Kirk took on the fight to stop global warming by addressing a major contributor to the crisis – fossil fuel use in personal transportation. To set an example, he gave up two of his favorite activities, playing golf and riding his Harley motorcycle.
He was often seen walking around town or riding "Red," his recumbent low-rider tricycle. Perhaps his most visible project was another pedal bike, the yellow "bullet car" velomobile which he converted to use a small solar-powered electric motor. He was excited about the potential it offered as alternative transportation.
Kirk was so very proud of his children and grandchildren, who were the light of his life.
He was preceded in death by his parents, and sister Anne (Chaffee) White.
Kirk is survived by his former wife of 45 years, Katie; children Josephine (Chaffee) Baumann, of St, Paul, MN, Anna (Joe) Zalusky, and Luke (Andrea) Chaffee of River Falls; six loving grandchildren; brother Michael Chaffee(Mary Ellen Sullivan); and sister Mary Kateada.
A casual open house gathering was held Thursday, January 4 from 4-7 p.m. at Bakken-Young Funeral Home, 805 E Division St, River Falls.
Memorials preferred to the family or to 350.Org, an organization leading the fight against climate change.
Arrangements are with Bakken-Young Funeral & Cremation Services of River Falls.