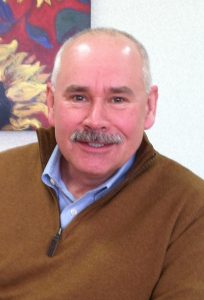 Kevin Caldwell Kuss, age 58 of Stillwater, Minnesota died Sunday June 4, 2017 after a painful one year battle with kidney cancer.  Kevin was born in Eau Claire, Wisconsin to Roger and Arnell Kuss. He graduated from River Falls High School and earned an accounting degree from Grand Canyon University in Phoenix, AZ. Preceded in death by his grandparents and parents; survived by his wife Sue, daughters Kessea (Dave) Paulson and Lauren, granddaughters Kameron and Hannah Paulson, sister Kim (Brian) Ozzello, nieces Callyssa and Trudy Ozzello, brother Kyle (Tracy), mother-in-law Phyllis Brinkman, brother-in-law Kurt Brinkman and nieces Heather and Ashley.  Kevin always worked in the public sector and was most recently employed by Michigan State University as Vice President of Operations for the Information Technology Department.
Kevin will be remembered by his family and friends for his infectious laugh, lovable personality and caring nature.  He was an avid reader and problem solver extraordinaire.  He loved to tease and had a playful sense of humor. Kevin was admired as an outstanding athlete and a phenomenal water skier. As a young man, swim suits were optional.  Our lives have been made richer by knowing and loving him.  We lost Kevin much too soon.
A Celebration of Kevin's Life was held Thursday, June 8, 2017 from 3-6 pm with a Service beginning at 4 pm at StoneRidge Golf Club (13600 Hudson Blvd.) Stillwater, MN.  In lieu of flowers memorials are preferred to: J. Roger Kuss Memorial Athletic Leadership Fund (checks made: UWRF Foundation) or American Diabetes Association (give online: diabetes.org).
Arrangements are with Bakken-Young Funeral & Cremation Services of Hudson.