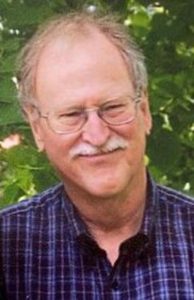 Kenneth Bertels Smith, age 76, of River Falls, WI, died peacefully on Sunday, May 29, 2022 surrounded by his family, and love, prayers and gratitude. Ken was born July 26, 1945 in Chattanooga, TN to Ruth and Hal Smith, Sr.
He proudly served in the United States Navy. He graduated with a B.S. in Chemistry from the University of Tennessee. He worked for 3M for more than 3 decades, beginning in ceramics and ending with specialty window film for national and international applications. He received several patents and awards for his work.
His family was the light of his life. On May 25, 1985 he was united in marriage to Margaret Hefferan. He was very proud of his daughters, Jennifer and Emma, and taught them to be independent, caring and to have a sense of fun.
Ken had a wry and impish sense of humor, enjoying puns and word jokes of all kinds. He particularly enjoyed woodworking, music, traveling and playing games with his family, grilling on the weekends, and spending time with friends.
Ken was caring, thoughtful, generous, and sometimes stubborn. He never lost his sense of fun and quick smile.
He was preceded in death by his infant daughter, Rebecca Ruth; parents, Ruth and Hal Smith Sr.; brother, Dennis; stepmother, Mary Frances Smith; and brother-in- law, Stephen Miller.
He is survived by his loving wife of 37 years, Margaret; and daughters, Jennifer and Emma Smith. He is survived by his brother, Hal Smith Jr. (Jennifer); stepsister, Joanne Bailey; and numerous nephews and nieces. He will be greatly missed.
A private memorial service was held Tuesday, May 31, 2022 at Bakken-Young Funeral and Cremation Services in River Falls. Arrangements are with Bakken-Young Funeral & Cremation Services.