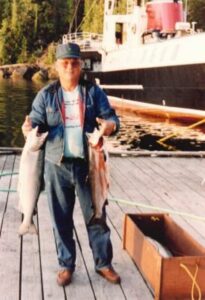 Kenneth E. Gelle, age 84, died on Tuesday, December 27, 2022 at The Deerfield in New Richmond. He was born the son of Eugene and Freida Gelle on July 14, 1938 in Northern Hennepin County in Minnesota. Ken grew up on the farm and graduated from Anoka High School, class of 1956. Following high school, Ken served in the Marine Corps reserves. Ken went to the University of Minnesota and graduated in 1963 with a degree in Mechanical Engineering. He met Jacqueline "Jackie" Johnson in 1957 and later married on August 29, 1959 in Robbinsdale, MN. Ken worked for NSP, now Xcel Energy, until his retirement in 1998. Ken loved working outside in his garden, cutting wood, and fishing as well as a little deer hunting. He was determined, easy-going, and kind.
Ken is preceded in death by his parents, Eugene and Freida; and three brothers, Arlen (Dolores), Edgar, and Cedric. He is survived by his wife, Jackie; sons, Scott (Kim), Tom, and Robb (Wendy); grandchildren, Michael, Adele, and Kevin, Nathan and Sarah, Jillian and Kirsten; sisters-in-law, Carol and Jeanne; and many nieces, nephews, relatives, and friends.
A memorial service was held on Friday, January 6, 2023 at 4PM at Bakken-Young Funeral & Cremation Services (728 S Knowles Ave) with a visitation starting two hours prior to the service at 2PM. Arrangements are with Bakken-Young Funeral & Cremation Services.