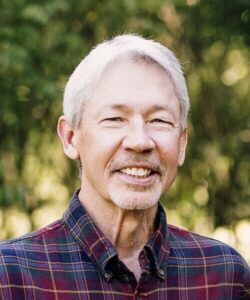 Kelly Clark Nelson of Cable, Wisconsin, took his final flight into God's arms on November 11, 2023.
Kelly was born on March 10, 1959 in Pierre, South Dakota, to Barbara and Iver Nelson. He grew up in Crandon, Wisconsin, with his younger sisters Kaye and KC. Kelly attended Crandon High School, where he lettered in football, basketball, and track. Off the field, Kelly was chosen for Badger Boys State in 1976, President of his class as a junior, President of the Student Council as a senior, and President of the Letterman's Club.
After graduating high school, Kelly would go on to attend the University of Wisconsin-Stevens Point, majoring in communications. While working his way through school waiting tables, Kelly would meet the love of his life, Kerri (née Rykal). They were married on September 4, 1982, and recently celebrated their 41st anniversary. Kerri brought out the best in him and was his angel. She was his companion through the good times and the hard times, and there was no one else he would have wanted by his side. Together they enjoyed touring Wisconsin's supper clubs, taking trips in the airplane, going to Packer and Badger games, practicing ballroom dancing in the hangar, and taking in sunsets on the lake.
After they graduated college, they moved to the Twin Cities area. A lifelong aviation enthusiast, Kelly found his calling when he was hired as an air traffic controller by the FAA in 1985. Over his 41 years of service, he rose to the position of Air Traffic Manager at the Minneapolis Air Route Traffic Control Center in Farmington, overseeing operations at a facility responsible for 389,779 square miles of airspace. During his career, he developed a reputation as tough but fair, and he earned the respect of his peers. Kelly took great pride in his work and made many lifelong friends during his time with the FAA.
Kelly and Kerri would welcome their first child, Nicholas, in March of 1988, and their second, Samantha, in September of 1990. They built a house in River Falls, Wisconsin, in 1992 where they would raise their children. He will be fondly remembered as a father who would do anything for his family; staying up after a night shift to see his kids off to school, rearranging his schedule so he could take them to their hockey game or basketball tournament, or driving hundreds of miles to help them move. Family was the most important thing to him, and it showed in his actions. Life in the Nelson household was filled with wrestling matches, playing ball in the yard, movie nights, weekends at the cabin, and Spring Break trips that were usually to the only places he could find that were somehow colder than River Falls. In 2019, Kelly gained a daughter-in-law who could keep him in line, Katie (nee Wilson), and in 2021, a son-in-law, Tyler Flanum, who is one of the few people that could match Kelly's passion for flying. In December of 2022, Kelly became a grandfather, with the birth of Sami and Tyler's daughter, Amelia, who instantly became the apple of his eye.
Kelly retired in 2016, and he and Kerri moved up Cable, Wisconsin, fulfilling his dream of building his retirement home on Lake Namakagon. After years of dreaming, looking at classifieds, videos, and his annual pilgrimages to EAA Airventure at Oshkosh, Kelly finally purchased his own airplane, a Cessna 182, in 2017. In retirement, Kelly was still active as a member of the Cable Union Airport board, where he had built a hangar for his plane. He enjoyed the tradition of hosting and flying-in to pancake breakfasts and hamburger socials held at the many small airports in the upper midwest, giving rides in his plane, and sharing his passion for aviation. He was also a member of the Namakagon Volunteer Fire Department and took pride in finding meaningful ways he could give back to his community. He made many great friends during his time in the Cable area, despite his self-professed distaste for "talking to people".
Kelly loved a good cup of coffee, especially sitting in an adirondack chair looking out over the lake in the mornings when everything was calm. He was an avid trash talker, particularly over a heated family game of dominoes. He was a proud Packers Shareholder and saw them win four Super Bowls, something he liked to remind his friends and colleagues who were Vikings fans. He was also a fan of the Wisconsin Badgers and listening to "the Ueke" call Brewers games on the radio. He loved the peace and quiet of fishing and the roar of a plane's engine in equal measure. He was a man who quoted Lombardi, Emerson, and the movies Top Gun and Stripes in similar proportions. Kelly was extraordinarily self-disciplined, except around his wife's desserts. He was a fiercely proud Wisconsinite, and his happy place was among the lakes of the Northwoods where he grew up. Through hard work and sacrifice, Kelly was the rare person who truly made his dreams come true. He was a man of integrity and principle, a true friend, a loving father, and a devoted husband.
A Celebration of Kelly's Life was held at White Eagle Golf Club (316 White Eagle Trail) in Hudson, Wisconsin, on Sunday November 26th. Memorial and visitation took place from 1:00-3:00pm with a short service beginning at 3:00pm. Visitation continued after the service until 6:00pm. If you were unable to attend, the service will be posted online at a later date, or you can remember Kelly as he would've wanted: over a glass of Leinie's, Guinness, or a few fingers of Jameson.
A Memorial Service was also held on Thursday, November 30, 2023 at 5:30PM at Saint Ann Catholic Church (13645 County Hwy M Cable, WI 54821).
Kelly is preceded in death by his parents Barb and Iver. He is survived by his wife Kerri, his sisters Kaye Mickelson (wife of Joel) and KC Nelson, his daughter Sami Flanum, her husband Tyler and his granddaughter Amelia, as well as his son Nick and his wife Katie.
Arrangements are with Bakken-Young Funeral & Cremation Services.