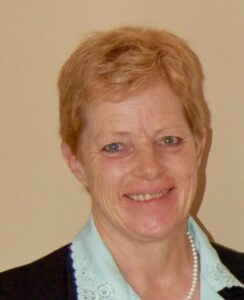 Tveten-Griffin, Kelly J., Appleton, WI (formally Somerset and New Richmond, WI) age 69 passed away, surrounded by her loving family, at St. Elizabeth Hospital in Appleton on Thursday, March 16, 2023. She was born in Hudson, Wisconsin on July 3, 1953, the daughter of the late Dean and Shirley (Shepard) Tveten. On July 9, 1994, she married Patrick Griffin who preceded her in death. She worked a number of jobs, a nurse's aid, an EMT; but the one that she really enjoyed and was at the longest was at NorthStar Steel in St. Paul, Minnesota, where she retired from. She had many things she enjoyed throughout her life from watching stock car races in Somerset and Menomonie, hosting large cookouts at her house with family, watching the Hallmark channel, cheering on the Green Bay Packers (almost as important as cheering against the Vikings), canning and baking, taking care of her dogs, and probably the biggest joy in her life were her four grandsons.
In addition to her parents, she was preceded in death by her husband Patrick Griffin, step-mother Dorothy (Putz) Tveten, step-mother Helen (Borup) Tveten, grandparents David and Martha (Ecker) Shepard, grandparents Ole and Molly (Johnson) Tveten, mother-in-law Florence Griffin, several in-laws, aunts, uncles, and cousins.
Kelly is survived by her daughter, Nicole (Jim) Tierney, siblings; Connie (Mark) Green, Dawn (Phil) Parker, Dana Tveten, grandsons; Andrew, Owen, Colin, and Grant Tierney, and Grayson Redlin (who she thought of as a grandson), several in-laws, aunts, cousins, nieces and nephews.
A gathering took place on Tuesday, April 4th, 2023 from 3 to 7pm at Bakken-Young Funeral & Cremation Services, 728 S Knowles Avenue New Richmond, WI 54017. Interment was held the following morning for immediate family and close friends.
The family would like to express a special thank you to the staff at St. Elizabeth Hospital for their wonderful care and also to the many people who offered their prayers and support. A memorial fund is being established in Kelly's name.
Arrangements are with Bakken-Young Funeral & Cremation Services.