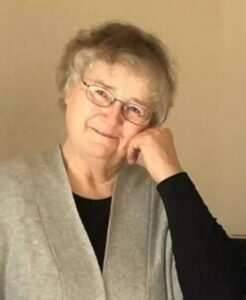 Katie Lynn Chaffee died peacefully at her home with her family on November 5, 2023.
She was born March 1, 1948 in Madison, Wisconsin, the first child of Lyda (Molle) and Paul Haskins. The family moved to River Falls in 1953 and Katie graduated from River Falls High School in 1965. She spent one year at St. Catherine University before transferring to the University of Wisconsin Madison to study History. She enjoyed learning all of her life.
Katie married Kirk Chaffee on August 24, 1967. After spending several years in Madison, Wisconsin, they returned with their daughters Josephine and Anna to River Falls in 1980. Their son, Luke, was born a year later. Katie was interested in many things and fulfilled a variety of professional roles. She worked as a typesetter and staff writer at the River Falls Journal. She was also a bus driver for the River Falls School District. Over the years, Katie worked for many local businesses, such as The Bookpress, WE Market Co-op, and Turningpoint's Second Chances. While she enjoyed these positions, she was most passionate about her work for the River Falls Public Library. She designed and hosted community shows and events in the Library's gallery. This work was a perfect fit, as it allowed her to put her knowledge of history, connections to the community, and creative talents to use.
In addition to her working life, Katie was a dedicated community member and committed volunteer. She served on many committees and boards and political organizations, such as the City of River Falls Plan Commission, River Falls Community Garden, Local Food Partnership, Rise Up, and the Library Foundation. Katie was elected as the first female mayor of River Falls in 2000. She cherished her role as "Grandma Katie" at Rocky Branch Elementary, caring for 4th grade students and maintaining order in the classroom.
Katie was so very proud of her children and grandchildren, who brought her much joy. Her grandchildren will always remember the "Grandma lunches" she lovingly prepared for them. Katie had a delightful sense of humor and served as her family's dictionary and encyclopedia. She was kind, smart, and hard-working. The common thread in her life was to spend her time and talents on things that would make the world a better place for others, now and in the future.
She was preceded in death by Kirk Chaffee, her husband of many years, and her father, Paul Haskins. Katie is survived by her mother, Lyda (Molle) Haskins; siblings Jennifer (Ron) Nelson, Lisa (Bruce) Waccholz, Jody (Jon) O'Grady, Shelly (Jon) Mueller, Alison (David) Page, Kevin (Cindy) Haskins, Gina Haskins, and Paul (Sally) Haskins; children Josephine (Chaffee) Baumann, of St, Paul, MN, and Anna (Joe) Zalusky and Luke (Andrea) Chaffee of River Falls; and seven beautiful and beloved grandchildren.
A Celebration of Katie's Life was held on Saturday, November 18, 2023 from 3-7 p.m. at Bakken-Young Funeral & Cremation Services, 805 E Division St, River Falls, WI.
Memorials preferred to the family or to the River Falls Public Library Foundation.