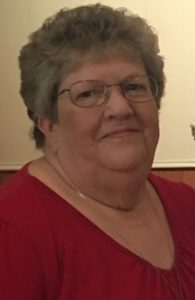 Kathryn "Kathy" A. Kloetzke, age 71, passed away unexpectedly on Thursday, May 13, 2021 at Regions Hospital in St. Paul with family by her side. She was born on August 16, 1949 in Osceola to parents, Clarence and Charlotte Demulling. Kathy grew up in East Farmington, attending school in Osceola. She later attended WITC in New Richmond. Kathy married David Kloetzke on June 14, 1969 in Luck, WI. She worked for UFE in Dresser with David and later worked for PhotoSource International. Kathy enjoyed canning, sewing, and scrapbooking as well as quilting, ceramics, camping, and having neighborhood card parties. She was a die-hard Green Bay Packer fan. She loved attending her grandchildren's events. Kathy was strong-willed and outgoing. She truly lived her life for her family and friends.
She is preceded in death by her parents, Clarence and Charlotte Demulling; infant brother, Frank; brother, Jim Demulling; sister-in-law, Debbie Demulling. Kathy is survived by her husband, David; daughters, Chris (Wayne Oldenburg) Scherber Larson, Victoria (Eric) Crawford, Trishia (Kirk) Carlson; grandchildren, Brandon (Christine) Larson, Niki (Tim) Stack, Erica Crawford, Zachary Crawford, Josie Carlson, Sarah Carlson, Jessica Carlson; great-grandchildren, Abel and Vivienne Larson; siblings, John Demulling and Joe (Judy) Demulling; and many nieces, nephews, relatives, and friends.
A Memorial Service was held on Tuesday, May 18, 2021 at 12 noon at West Immanuel Lutheran Church with a visitation starting at 10AM. The Visitation will took place at Servant Hall. Interment will be in West Immanuel Cemetery at a later date. Arrangements are with Bakken-Young Funeral & Cremation Services.