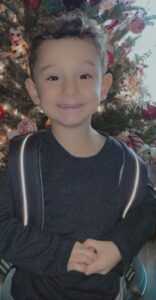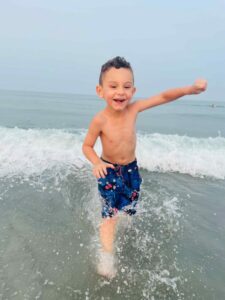 It is with deep sadness that we announce the death of Kaiden "Joey" Trevino, who passed away on his sixth birthday on Saturday, November 5, 2022, at home surrounded by his family.
Joey fought a heroic battle with a rare Brain tumor and was a superhero in the eyes of his family and friends. When asked on his first day of school last year what he wanted to do when he grew up, he stated that he wanted to "help people". With this in mind, Joey's family has graciously decided to donate his tumor to Scientific Research. This research will take place at many locations around the world in hopes he will help other young children with this form of Brain Cancer for many years to come.
Joey was born in Stillwater, Minnesota to his parents Lauren Averill and Victor Trevino. He lived in New Richmond, Wisconsin with his beloved "Naun " Melissa Anderson ,"Papa" Russell Anderson, his sister Ella, and his Aunts Kailyn, Lindsey and Lydia. Joey attended school at his local New Richmond Head Start, where he enjoyed learning and growing in a school setting.
The "perfect" day for Joey was playing trucks in the dirt, playing Minecraft and Roblox with his sister, pranking Cooper (Coopa), watching his favorite shows (Bluey and Paw Patrol), sneaking sips of Naun's orange soda, and having pancakes for dinner with some chocolate ice cream.
Joey will be missed dearly by everyone whose life he touched.
A funeral service was held on Friday, November 11, 2022 at 5:30 pm at Bakken-Young Funeral & Cremation Services (728 S Knowles Ave.) in New Richmond.  Visitation was also Friday from 4:30-5:30 pm at the funeral home.  Following the service a reception will be held at the Community Center in Star Prairie.  Arrangements are with Bakken-Young Funeral & Cremation Services.