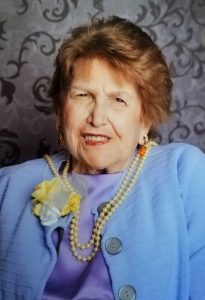 June E. Sanburg age 90 of New Richmond, formerly of New Brighton, MN died peacefully  Saturday, July 8, 2017 at The Deerfield Gables in New Richmond. June was born June 1, 1927 in Friesland, MN. June had a love of gardening, loved any type of pink flowers and loved the arboretum, She loved taking pictures and always had a camera in her hands, she loved to go bowling every week on a league until she was 80 years old,  she loved to crochet and knit which she always took the time to share how to and also show her "grandchildren" how to do it, she loved to sew and would make things for her nieces Sandra, Patty and Linda when they were younger, she loved spending time with family and friends and always had coffee and popovers ready when she had company over and little tea parties set up for when her great nieces and nephews and also grandkids would come over. She was known by many as Junie Moon or Aunt June but also known to 4 special kids and her great niece Patience as Grandma June. Not many can say that even though they were not blessed with children that they were then blessed with Grandchildren. June shared her love unconditionally to all those around her, teaching love, wiping tears, showing compassion and always giving to others ever since she was young. Her love for her nieces and nephews as they were growing up in her younger years continued to her great nieces and nephews and then "grandchildren" as she got older. Her family meant the world to her and she always reminisced and remembered days gone by. June left a mark everywhere she went. Her laugh was contagious and she always wore a smile.
She is preceded in death by her parents Sam and Ellen Sanburg, 5 Sisters, 1 Brother, 3 Nieces Sherry, Patricia and Linda and a very special friend Sylvia Jenkins.
June is survived by 1 Brother Ronald K (Bonnie Jo) Sandburg, niece Sandra (Les) Gutknecht, nephew Frank Regnar Many Great Nieces and Nephews, Great Niece Patience Jensen and her 4 children that she was Grandma June to Adam Gibson, Brett (Sarah) Gibson, Derek (Ashley Mitchell) Gibson, Carlie Gibson and many friends and family.  A heartfelt Thanks for the Loving care given to her by the staff at The Deerfield Gables
June touched so many lives and made such a difference in this world. If we can take anything away from her life it would be to Always Love Unconditionally and give 100 % of yourself selflessly. June would want us to celebrate her life as she felt she was richly rewarded and blessed in the life she had and loved so much.
Memorial service celebrating June's life was Saturday July 22, 2017 at The Deerfield Chapel (1127 W 8th St.) in New Richmond at 2 p.m. with visitation beginning at 1 p.m. Private interment at a later date. Memorials preferred in lieu of flowers.  Arrangements are with Bakken-Young Funeral & Cremation Services Beebe Chapel of New Richmond.