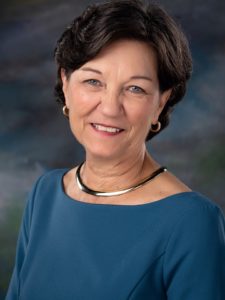 Julie A. Leek, age 63, passed away peacefully on Thursday, February 14, 2019, at her home in Hudson, Wisconsin. She was born April 17, 1955, in Olivia, Minnesota to Donald & Dolores Haubrich. She was a 1973 graduate of Danube High School and knew she was destined for great things. She married Roy Leek on January 24, 1981, in Plymouth, Minnesota. Together they co-owned and operated a fine jewelry store with her beloved Roy, for 38 years. She provided years of exceptional service to the young and old with her unique sense of knowing how to connect with her customers and friends.
Julie truly treasured life to the fullest through simple pleasures; calling family, chatting with customers, spending time with her nephews, and her most loved hobby—fishing. Julie had an uncanny ability to reach people in a deep and positive way and will be forever remembered for her smile, charm, and positive attitude.
She is survived by her husband, Roy; parents, Donald & Dolores Haubrich; siblings, Michael & Suzie Haubrich, Timothy Haubrich, Mark & Jane Haubrich-Bearss, Jeff & Jill Haubrich-Widness, Richard & Joan Haubrich-Higgins, Charlie & Joyce Haubrich-Potter, Jennifer Haubrich; brother-in-law, Joseph & Bonnie Moudry; many nieces, nephews, and cousins.
Family, friends, and others whose lives Julie touched were invited to a visitation on Wednesday, February 20, 2019 from 4-7 pm at St. Patrick Catholic Church (1500 Vine St.) in Hudson, WI for a time to reminisce, grieve, support each other and, of course, just chat. A Mass of Christian Burial was held Friday, February 22, 2019 at 11:00 am at St. Aloysius Catholic Church (302 S 10th St.) in Olivia, MN. Interment was in the church cemetery. Memorials may be directed to St. Aloysius Catholic Church Cemetery or the Carmelite Monastery in Hudson. Arrangements are with Bakken-Young Funeral & Cremation Services.