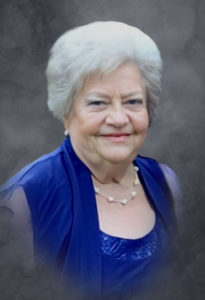 In Loving Memory
Judy A. Hubmer
January 2, 1943 – January 7, 2022
It is with great sadness that we announce the passing away of Judy A. Hubmer (79) on January 7, 2022, in New Richmond, WI. It is with great joy that we proclaim that she has been united with her Lord and Savior Jesus Christ.
Judy was the daughter of John William and Mildred Robinson, she was born and raised in Sullivan Ill. She married Joel Hubmer of Austin, MN on September 15, 1963. Judy and Joel then moved to New Richmond WI in 1978 where they raised their family of 3 children.
Judy found fulfillment in life by demonstrating her love to others by serving home cooked meals, baking, sewing, and cheering on her grandchildren in their activities of dance, track, soccer, and hockey. She unselfishly lived her life through and for her family by making sure everyone around her was properly fed and spreading love through hugs and concerns for their well-being. She was a farm girl at heart, from Southern Illinois, who loved gardening, camping, wildlife, country music, traveling, and getting her hands dirty. She lived a blessed life. Her smile, laughter, and competitive spirit will truly be missed by her family and friends.
She is survived by her husband Joel Hubmer, daughter Sharrie (Larry) Bengtson, son Michael Hubmer, and son Jon (Carrie) Hubmer. Grandchildren, Riley (Jessica) Bengtson, Ashley (Garrett) Stromseth, Micah (Kaitlin Hamby) Bengtson, Kyler Bengtson, Josh (Hannah Westerman) Hubmer, Whitney Hubmer, Carter Hubmer, Bailey Hubmer, and Reece Hubmer. Great Grandchildren, Brecken Bengtson, and Britton Stromseth. Siblings, Jim (Jayne) Robinson, Ron Robinson and Connie (Jim) Carlyle. She was preceded in death by her loving parents, father John "Bill" William Robinson and mother Mildred June Robinson (Underwood) and sister-in-law Sherry Robinson.
A Celebration of Judy's Life was held on Saturday, January 29, 2022 at 12 pm at Bakken-Young Funeral & Cremation Services 728 S Knowles Avenue New Richmond, WI. Memorial visitation was also held on Saturday, January 29, 2022 from 9:30 am – 12 noon at the funeral home. Interment will be in the New Richmond Cemetery at a later date. Memorials may be directed to the American Diabetes Association.  Arrangements are with Bakken-Young Funeral & Cremation Services.