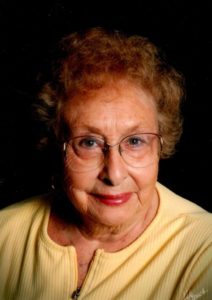 Joyce G. Wahlquist-Cremeans
Joyce Genevieve (Girard) Wahlquist-Cremeans passed away peacefully, June 20, 2021, at the St. Croix Health Center, New Richmond, WI, after a battle with Lung & Brain Cancer. She was 92 years old. Joyce is survived by her daughters Anne Johnston (Jeff) & Mary Wahlquist (John Boblett), stepchildren Sandra Cremeans (Todd Nelson), John Cremeans (Kelly) & Scott Cremeans (Kathy), grandson Josh Howie (Jamie), step-grandchildren Aidan Cremeans, Ashley Cremeans, Johnny Cremeans & Alex Cremeans, great-granddaughters Sydney & Remi Howie, sister Mary Lou Schroeder, nieces Kim Ross & Robin (Ron) Bender, nephew David Schroeder (Mary), great-niece Jessica (Jessie) Mackay, great-nephews Matt Fortney, Justin & Nathan Bender & Steve Ross & 2 great-great nieces. Joyce is preceded in death by her parents Verne & Louise (Geiger) Girard, brother-in-law Robert Schroeder, first husband John R. Wahlquist & husband John G. Cremeans.
Joyce was born in her grandparent's house in Osceola, WI on May 10, 1929. She moved to New Richmond with her parents when she was 3 years old. Growing up in New Richmond, Joyce made many lifelong friends that she held very close to her heart. She & her younger sister Mary Lou, helped her parents run their restaurant "The Cozy Nook", where she developed her exceptional work ethic. She also worked as a sales person at Olson's Department Store in New Richmond. After High School, Joyce attended Macalester College for one year before transferring to the Minnesota School of Business, from which she graduated. On May 7, 1950, Joyce married the love of her life, John R. Wahlquist, also from New Richmond. They started a family & had two daughters (Anne & Mary). Along with raising their two daughters, Joyce worked as Executive Assistant in Sales at Friday Canning Company for 10 years, an Executive Assistant for architects Drake, Sessing & Zapke for 5 years, & held various positions at the New Richmond News for over 10 years (Proof-reader, Community News Columnist, Local Events, etc.). Besides work, Joyce loved to entertain, getting together with her girlfriends & playing Bridge, teaching Sunday School, being a Girl Scout Leader & singing in the United Methodist Church Choir for 76 years. She was also an important part of the Eastern Star not only being "Martha" & "Esther" over the years but also Worthy Matron. Joyce was a member of the Newcomers & Women's Clubs, & a member of the Willowettes & Worship Commission Choirs. What brought her the most joy was being with her family & friends, cooking, sewing, reading & traveling.
After 41 years of marriage, John Wahlquist suddenly passed away in September 1991. Joyce was lucky enough to find another love & partner, John Cremeans whom she married in 1994. Together they traveled to many places within the US & abroad, while spending every winter in Punta Gorda, Florida. They were married for 26 years until John passed away of complications from Parkinson's disease in October 2020.
Joyce was diagnosed with Lung & Brain Cancer in October 2020. She fought valiantly, remained upbeat & feisty & enjoyed visits & phone calls from many friends & family. Joyce passed peacefully in the early hours of June 20, 2021. She will be greatly missed by all her family & friends.
A Memorial Service for Joyce Wahlquist-Cremeans will be held on Sunday, August 1, 2021, at 3:00PM at Bakken-Young Funeral & Cremation Services (728 S. Knowles Ave) in New Richmond, Wisconsin with a visitation starting at 2:00PM. Everyone is welcome to share a memory or story during the service. A graveside service will follow the memorial in New Richmond Cemetery. The service will be streamed live via a link at the bottom of the obituary. This will be a double memorial service for both Joyce & John Cremeans. Arrangements are with Bakken-Young Funeral & Cremation Services.
Click here to watch the livestream of Joyce and John's service.