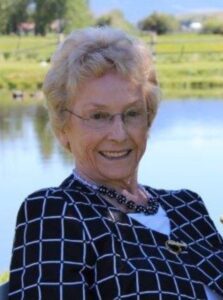 Joyce V. Olson Stullich, age 90, died Tuesday, October 18, 2022, at Preferred Senior Living in Ellsworth, WI.
Joyce was born on a farm SE of Fertile, MN. and grew up living on a farm. She loved music and singing. She and her sister were often asked to sing at different events during her school years in Fertile. Underneath her high school yearbook picture is the quotation "It's better to be small and shine than be big and cast a shadow." After she graduated from Fertile High School, she went to St. Luke's Nursing School in Fargo, ND. She worked in Pediatric Nursing and while working there, met her first husband Jack. After moving to San Jose, CA they had four children together and when the oldest was six years old, she moved back to Minnesota as a single mother. One year after moving back to MN, her youngest, precious daughter Pammy, became ill and died at the age of 2&1/2.
After arriving back in MN, she was hired at St. Luke's Hospital this time as a nurse instructor. Years later she moved her young family to Minneapolis to work in another area of nursing. Joyce continued her education to receive her bachelors degree and her masters in Psychology. While she went on to work in many different areas of nursing, her favorite was as a nurse instructor.
Joyce was single for 14 years staying close to her large family of brothers, sisters , nieces, and nephews getting together for many summer camping trips and family activities. She joined a single parents group for socializing for both herself and her children because she believed that was healthier for all. She started downhill skiing at age 35 and brought her children on many local ski trips with the singles group. Joyce loved sking and even made it to Austria which she claimed wasn't as nice as Colorado! She skied until she was 70 years old!
She made sure all her children and grandchildren were educated and helped them to be successful in doing the very thing each wanted to do in their working lives.
Joyce remarried at age 45 to a man who owned and flew small planes, and they were always flying all over the United States together so she decided to learn how to fly just in case he had a medical emergency and she would have to land the plane.
She loved to travel including trips to Canada, Europe, Australia, Egypt, Jerusalem, and a special trip with her mother to Norway, she remembered how much they laughed all through the trip.
Her best friend for 12 years was her small chihuahua named Spike. He held a special place in her heart.
Joyce started losing her eyesight at age 78 but she always enjoyed getting together with family on any occasion, especially Christmas. She loved going to church every Sunday. She never tired of hearing beautiful Christian music as well as pop music through the ages. Engelbert Humperdinck, Neil Diamond, and Josh Grobin were her favorites.
She had a long, full life and we are all forever thankful for the values, strength, and ability to love and laugh that she instilled in each one of us!
A Celebration of  Joyce's Life was held on Thursday, November 3, 2022 at 11 am at Bakken-Young Funeral & Cremation Services 805 E Division Street River Falls, WI and streamed live through the link just below this obituary.  Visitation was also on Thursday, November 3, 2022 from 10-11 am at the funeral home.  Interment will be in Acacia Park Cemetery in Mendota Heights, MN at a later date.  Arrangements are with Bakken-Young Funeral & Cremation Services.
Click here to watch the recording of Joyce's service