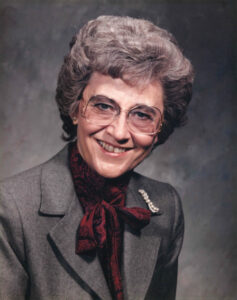 Joyce LuEtta Hasselquist, age 94, passed away on October 14, 2023, in River Falls, Wisconsin, after a long, blessed life.
Joyce is survived by her son, Dr. Bruce Hasselquist (Jan); grandchildren, Erik Hasselquist (Miriam), Sarah Peterson (Jesse) and David, Matthew and Stephen Goldenberg; great-grandchildren, Fisk and Maeve Hasselquist, and Ezra and Eva Peterson; son-in-law, Michael Goldenberg; sister-in-law, Edna Rundquist; and nephews and nieces. She is preceded in death by her husband, Earl Hasselquist; daughter, Dr. Susan M. Hasselquist; sister, Gwendolyn Rundquist and brothers, Dale Rundquist, Palmer Rundquist (Sandra) and Roger Rundquist.
Joyce was born on May 19, 1929, near Pepin, Wisconsin, to parents Elwin and Ruth Rundquist and graduated from Maiden Rock High School. She attended Gustavus Adolphus College for two years before taking a position as the parish worker at Chisago Lakes Lutheran Church in Center City, Minnesota, where Joyce met her future husband, Earl Hasselquist. They were married on August 25, 1951, after which she devoted her time to family life. After Earl was injured in a farm accident they moved to River Falls, Wisconsin, where Joyce worked for four years as the school secretary at the junior high school while Earl went back to school to earn his teaching degree. She subsequently went back to college herself and earned her Bachelor's degree in Secondary Education with an emphasis in Library Science from UWRF. With the opening of the new Westside Elementary School in River Falls, Joyce became its first Media Center Director and set about creating one of the first digital libraries. She worked at Westside until she retired in 1991 after 21 years of service to the school district. In retirement Joyce became a consultant for Follette, providing a multitude of opportunities for Earl and her to travel around the U.S. and Canada as she trained other librarians to use their digital library system.
Joyce was a member of First Covenant Church in River Falls and shared her love for books with the congregation by establishing its first library and serving as the church librarian. At home she enjoyed painting, gardening, and of course, reading. She had a gift of hospitality. Earl and Joyce loved to host Bible studies and parties for friends and family at their home.
A Memorial Service was held on Saturday, October 28, 2023 at 1:00PM at the First Covenant Church (1374 North Main Street) in River Falls with the visitation starting one hour prior to the service at 12 noon. Private Family interment was in Greenwood Cemetery in River Falls. Arrangements are with Bakken-Young Funeral & Cremation Services.