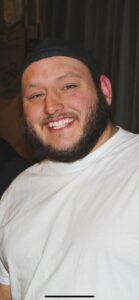 Joshua William Nelson, age 28, passed away Wednesday, July 12, 2023.  He was born in Stillwater, MN on December 22, 1994 to Terry and Lisa Nelson. He and his family lived in Houlton, WI until 2003 when they moved to New Richmond. Josh graduated from New Richmond High School in 2013. Since high school, Josh has worked at numerous manufacturing companies but was also a school bus driver for a short period of time. He recently completed a course to become a maintenance technician and was working at MPP in Osceola, WI.
Josh and Kayla met in 2017 and were married on July 20, 2019. They had their first daughter, Eden Everly, on October 7, 2019 and bought their home in Balsam Lake in October of 2020. On June 14, 2023 they welcomed their second daughter, Willa Jane.
 Josh was a loving husband and father before anything else. He was kind and compassionate and he was always willing to help anyone in need. Josh made friends easily wherever he went and he would light up the room with his laughter and contagious smile. He was an avid cornhole player and he loved his cornhole family, especially his Aunt Debbie who was his long-time playing partner. In addition to throwing bags, Josh loved hunting, fishing, playing darts, and attending any concert he could win free tickets to off the radio. He was also a dedicated fan to many professional sports including football, hockey, and wrestling. Josh spent his free time fixing cars, Goodwill shopping, and bringing his family on spontaneous weekend adventures all over Wisconsin and Minnesota. He often said, "You can always earn more money, but you'll never be able to buy more time. I'd rather spend my money making memories.", and he did just that. He created memories with his loved ones that will last a lifetime.
 Josh is survived by his loving wife McKayla Nelson, their two daughters Eden and Willa Nelson, his parents Terry and Lisa Nelson, brothers Jacob Nelson (Autumn) and Andrew Kerrigan (Sarah), his nephew Jaxon and his two nieces River and Navi, and many aunts, uncles, and cousins.
Josh is preceded in death by his grandparents William and Willa Nelson, his grandmother Donna Fullerton, as well as his best friends Jordan Johnson, Zach Zajec, and Josh Goodrich.
Funeral services for Josh were held on Thursday, July 20, 2023 at Bakken-Young Funeral & Cremation Services (728 S Knowles Ave) in New Richmond, Wisconsin at 12:00PM with visitation starting at 9:00AM.  Interment was in New Richmond Cemetery.  Arrangements are with Bakken-Young Funeral & Cremation Services.